(For a bigger version of the photo, check it out on the new Fridgg! 😀 )
I love baking, but since it's just Son and myself at home, a batch of anything is always too much. There's only so much you can pawn off on family, so most of what I bake ends up going to my physical therapist's office (they all love me there) and Son's work (they do too 😉 ).
The only problem with bringing baked goods into Son's work is that one of his coworkers/friends has recently gone vegan… so she can never eat the butter/egg/dairy-filled baked goods I bring in.
Luckily for her, I love a challenge! I've been wanting to make something she can eat for a while, but I didn't want anything that used weird ingredients like dairy-free margarine, or anything like that. I found this vegan peanut butter cookie recipe on ChooseVeg.com, and although I was a little worried it might not work, I decided to try it.
This last weekend one of his old coworkers had a housewarming party, which was the perfect occasion! The cookies turned out wonderfully – they're a little more cake-like, and crumblier than non-vegan cookies, but delicious nonetheless. I thought they were reminiscent of the filling of Reese's Peanut Butter Cups (which I LOVE), while Son said they reminded them of the Vietnamese mung bean cookies eaten around the Lunar New Year.
Just don't do what I did with the first batch, and forget to flatten them with a fork (although in my defense, the original recipe left that part out). The cookies come out of the oven in the same shape that they were when they went in… and as you can see, flattening the cooked cookie balls after the fact doesn't work so well.
(Although one of my twitter followers did have the great idea of using the cookie crumbs for a pie crust… which makes me want to mess up more cookies just so I have an excuse to try that!)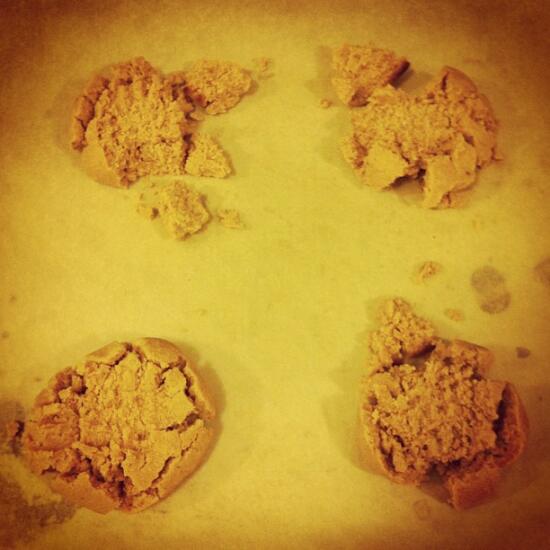 Flatten the cookies BEFORE they go in the oven!
Ingredients
1 1/2 cups flour
1 cup peanut butter
1/4 cup oil
3/4 cups sugar
1 tsp vanilla
extra sugar for flattening
Cooking Directions
Preheat the oven to 400°F.
Mix all ingredients together.
Roll the dough into 1.5-inch balls, and place on an ungreased cookie sheet, about 2 inches apart.
Dip a fork in sugar and use it to flatten the balls, creating a cross-hatch pattern on each cookie. Dip the fork in sugar again each time you flatten a cookie.
Bake for 10-12 minutes.
Let cool on the cookie sheet. These are crumblier than non-vegan cookies.
Enjoy!