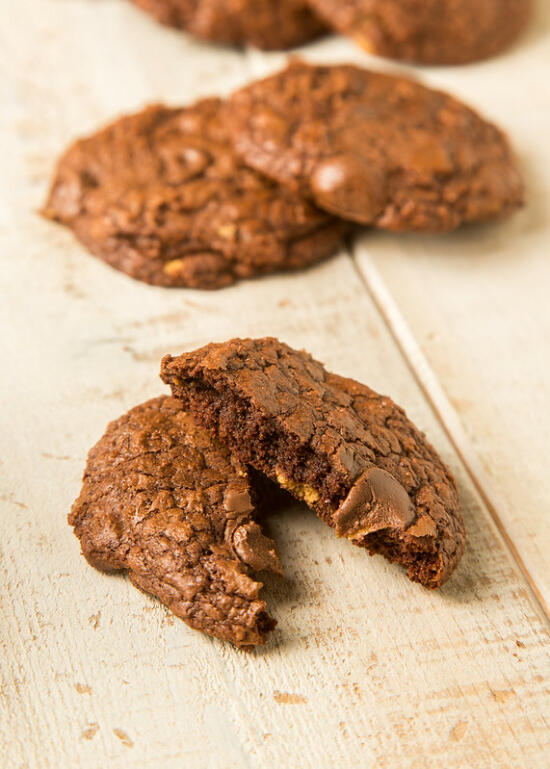 Who doesn't love the combo of peanut butter and chocolate?
(If you don't, don't tell me – I don't know if we can still be friends.)
These oooey, gooey, rich chocolate peanut butter cup cookies are the perfect way to get your chocolate peanut butter fix. I love them so much, I've made them twice already!
(And nobody needs to know how often I sneak one of these cookies when no one's looking, with a nice big glass of cold milk. Such a guilty pleasure!)
I highly recommend eating them warmed, with a scoop of ice cream on the side. I'm a bad influence like that. 😉
Gooey Chocolate Peanut Butter Cup Cookies, from SugarHero!
Ingredients
3/4 cup all-purpose flour
1 tsp baking powder
1/4 tsp salt
1 lb semi-sweet chocolate, coarsely chopped
1/3 cup (3 oz) creamy peanut butter
2 oz unsalted butter
1 3/4 cup packed brown sugar
4 large eggs, at room temperature
1 tbsp vanilla extract
2 cups mini peanut butter cups
Cooking Directions
In a small bowl, whisk together the flour, baking powder, and salt, and set aside.
Combine the chopped chocolate, peanut butter, and butter in a microwave-safe bowl, and microwave in 30-second increments until completely melted and smooth. Stir every 30 seconds to prevent overheating. Let the mixture cool to lukewarm.
Place the sugar and eggs in the bowl of a large stand mixer, and beat with a whisk attachment until thick and foamy, about 5 minutes. Add the chocolate mixture and the vanilla, and mix them in until they're incorporated. Scrape down the bottom and sides of the bowl, as the chocolate has a tendency to sink to the bottom.
Stir in the flour mixture, and when that's incorporated, add the miniature peanut butter cups, reserving about 1/4 cup of them. Press a layer of cling wrap on top of the batter and refrigerate it until it's firm enough to scoop, at least 1 hour. (The batter can be refrigerated for several days, but it will need to sit at room temperature to become workable if it has been chilled for an extended period.)
Preheat the oven to 350°F and line baking sheets with parchment paper. Use a large 1/4-cup scoop to scoop large portions onto the baking sheets. Cut the remaining peanut butter cups in half, and press a few of them on top of each cookie. Bake the cookies until they look dry and crackly on the top, but the center is still very jiggly and soft when pressed, about 9-12 minutes. Cool the cookies on the baking sheet—if you try to move them too soon, they'll fall apart. Once cool, store the cookies in an airtight container at room temperature for 3-4 days For the best taste and texture, microwave them for a few seconds before serving, so the centers get warm and gooey.