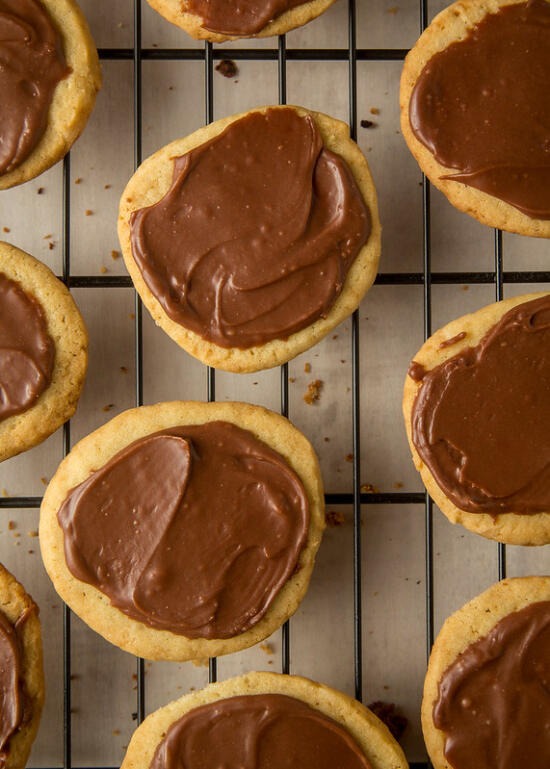 I'm not sure where this recipe originally came from, nor do I know who this "Susan" is, however this recipe has been in my family for years, showing up at gatherings every now and then.
The cookies are very delicious on their own. But we all know that chocolate makes everything better, and this is absolutely true for these cookies!
However, chocolate or no chocolate, these cookies are crazy easy to make. Even better, being "refrigerator" cookies, they're super easy to make the dough ahead, and then you can easily bake a few whenever you need a cookie fix!
(P.S. Don't be lazy like me. If you actually sift your powdered sugar before mixing it into the ganache, your cookies will turn out looking a lot better than mine did! 😉 )
Susan's Vanilla Refrigerator Cookies
Ingredients
1 1/2 cups sifted all-purpose flour
1/2 tsp baking soda
3/4 tsp salt
1/2 cup soft shortening
1 cup granulated sugar
1 egg, unbeaten
2 to 3 tsp. vanilla extract
1/2 cup nuts (optional)
1 batch chocolate ganache (optional)
Cooking Directions
Sift flour, soda, salt. Mix shortening with sugar, egg, and vanilla until very light and fluffy. Gradually mix in flour mixture and nuts.
Turn dough onto large piece of waxed paper. Shape into roll 1 1/2″ diameter, then wrap. Refrigerate several hours, overnight, or several weeks if desired.
Start heating oven to 375°F. With sharp thin knife dipped into hot water, then wiped dry, slice roll 1/8″ to 1/4″ thick (slice off only what you need, return rest of roll to refrigerator to bake later).
Place on ungreased cookie sheet. Bake 10 min or until done. Cool completely.
If desired, make a batch of chocolate ganache and, using a butter knife or spatula, spread each cookie with ganache. Let cool completely, until ganache has hardened.
Store in a tightly covered container. Makes 5 dozen.
Enjoy!