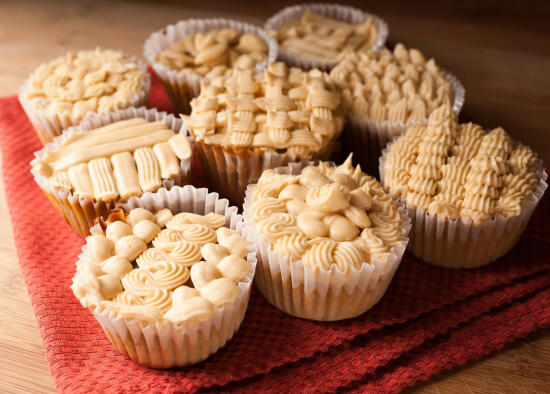 I was an early adopter, when it came to Harry Potter. My grandparents got me the first book when I was in middle school. I loved it, of course.
I then proceeded to dress up as Draco Malfoy that Halloween. Complete with cape and Nimbus 2000. (My little sister dressed up as Harry Potter. No, you don't get to see pictures.)
Not a single person at my school had any clue who I was. (Once a dork, always a dork…)
Luscious brown sugar cupcakes…
Flash forward a decade, and Harry Potter is all the rage. And… I'm just not feeling it. Yeah, I know, I know. But somewhere between the 4th and 5th books, I just fell out of love with it.
(I haven't seen the movies, either… just bits of the first one. But I've never been much of a movie person.)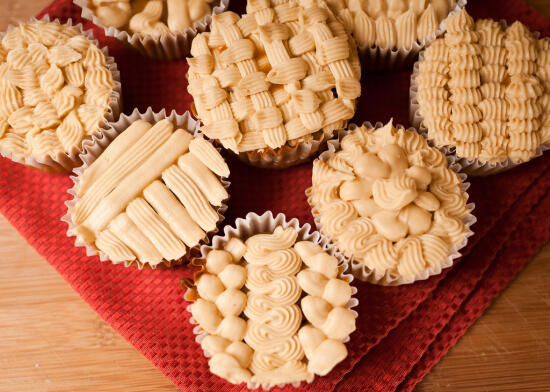 Decadent butterscotch sauce…
My sister, on the other hand, is still a huge Harry Potter fan. So when she and her girlfriend (also a huge Harry Potter fan) came home for a few days before the school year started, I pulled this recipe out of my long list of bookmarked recipes (I'd been saving it up for them).
I'm not sure exactly what I had been expecting, but holy cow these are good. Sweet, but not too sweet, as some butterscotch-flavored desserts can be. Moist, especially after I accidentally poured in an entire cup of buttermilk instead of just half a cup. And ohmygod that buttercream frosting… in the past I hadn't been much of a fan of the buttercream frostings I've made, but I'm a believer now.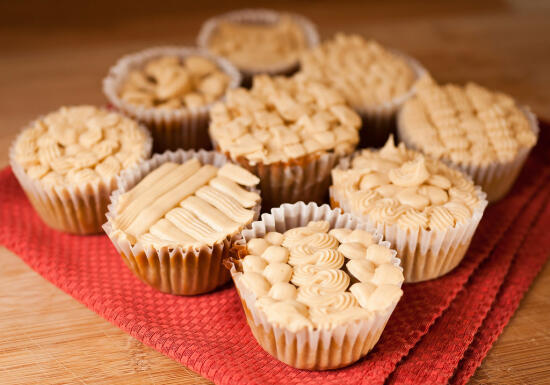 And the best butterscotch buttercream frosting ever.
Slightly altered from The Pastry Affair's Butterbeer Cupcakes, which were adapted from the Butterbeer Cupcakes on Amy Bites.
Brown Sugar Cupcake
2 cups flour
1 1/2 tsp baking powder
1/2 tsp baking soda
Pinch of salt
1/2 cup (1 stick) unsalted butter, softened
1 cup dark brown sugar, packed
3 large eggs
2 tsp vanilla extract
1 tsp butter flavoring
1 cup buttermilk
1/2 cup cream soda
Preheat oven to 350° F. Line a cupcake pan with cupcake liners.
Whisk together the flour, baking powder, baking soda, and salt. Set aside.
Cream the butter and brown sugar until light and fluffy. Add the eggs one at a time, beating well after each one. Add the vanilla extract and butter flavoring.
Fold in one third of the flour mixture, then the buttermilk, then another third of the flour mixture, then the cream soda, and then the remaining flour.
Fill cupcake liners 3/4 of the way full and bake for 15-18 minutes, or until the cupcakes are golden-brown and a toothpick inserted into the center of the cupcake comes out clean. Cool completely before frosting.
Butterscotch Ganache
11 oz (1 package) butterscotch chips
1 cup heavy cream
In a small saucepan over medium heat, melt the butterscotch chips into the heavy cream, stirring until smooth. (Or heat in the microwave in 30-second increments, stirring in between.) Remove from heat and cool to room temperature before using.
Butterscotch Buttercream
6 tbsp unsalted butter, softened
1/4 cup butterscotch ganache (recipe above)
1 tsp vanilla
1 tsp butter flavoring
Pinch of salt
3 cups powdered sugar
Cream the butter until light and fluffy. Mix in the butterscotch ganache, vanilla, butter flavoring, and salt. Beat in the powdered sugar for 2-3 minutes.
To Assemble:
Pour the butterscotch ganache into a plastic squeeze bottle. Push the tip of the bottle into the cupcake and fill each cupcake with butterscotch ganache until it starts to overflow. (I made 3-4 holes in each cupcake.)
Fill a pastry bag with the buttercream and pipe onto the top of each cupcake. Drizzle with more butterscotch ganache, if desired. (You will most likely have left-over butterscotch ganache – this can be used as a topping for ice cream, or it's an excellent excuse to make another batch of these cupcakes.)
Store in an airtight container at room temperature.
Enjoy!