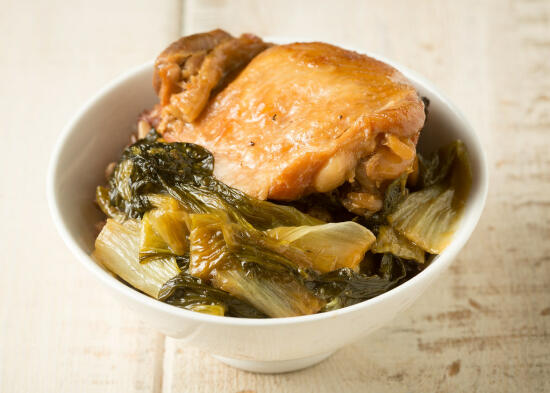 I've got a persistent cough, the kind where you always get an itch in your throat at exactly the wrong time (such as, right at the moment when someone asks you a question in the middle of a conference call), and leaves you sounding like a chain smoker.
Son's getting over an ear infection, which, as he put in an uncharacteristically poetic manner earlier tonight, "I feel like there's a tiny hummingbird in my ear, making love to my eardrum."
I've spent the last week staying up working until 4am every night, trying to meet crazy deadlines. (The glamorous life of a freelancer!)
The dishes are piling up, and there are boxes and boxes of miscellaneous kitchenware all over my living room floor, because they're cleaning out grandma's house and I couldn't bear to let them just get rid of it all.
This is real life.
Which means, well, there couldn't possibly be a better time to break out the slow cooker. What a lifesaver it is. Just toss the ingredients in a pot, turn it on, and don't think about it again until it's time to eat. It doesn't get better than this.
I originally wrote the above back in May (yes, it takes me five months to finish a blog post), and liked it so much I decided to post it anyways. It's finally cooling off in LA right now, after a summer and fall filled with heat waves, so it feels like slow cooker season again. I've already made this again this season just a couple of weeks ago, and I'm already craving it again. It's that sort of hearty, comfort food-delicious sort of meal that fills you, warms you, and makes you feel good about yourself because it manages to be pretty healthy, too.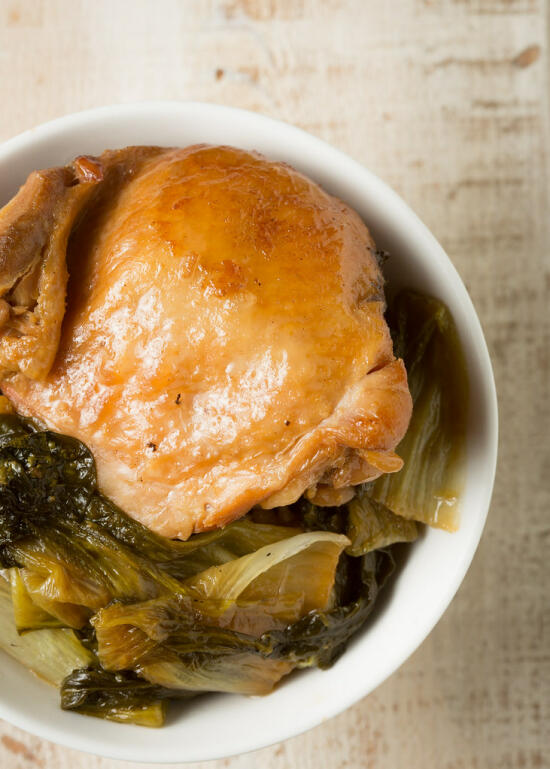 Recipe adapted from Yankee Kitchen Ninja. We like to make lots and have leftovers all week, and the bok choy is our favorite part so we make quite a bit extra. However if you have a smaller slow cooker or just want enough for a meal, you can refer to the original recipe.
Ingredients
10 bone-in chicken thighs
1/4 cup fish sauce
1/4 cup shoyu
1 tsp white pepper
8 cloves garlic, minced (I usually add more because we really love garlic)
2 tbsp canola oil
1/4 cup brown sugar
lots of bok choy (I usually go with 5lbs or so; other greens can also be used)
Cooking Directions
Put everything except the bok choy in the slow cooker. Cover and cook on low for about 6 hours.
Wash the bok choy, discard the last inch of the base. When the chicken is finished cooking, carefully transfer it to another bowl. Place the bok choy in the slow cooker, stirring to make sure it is coated with the sauce. Replace the lid, and cook on high for another half hour or so, until the bok choy is wilted and soft.
Serve over white or brown rice. Enjoy!