With the Labor Day weekend coming up, picnics and barbecues are on my mind. This weekend feels like summer's last big hurrah, before school really starts to get under way and temperatures start to cool down.
(Of course, I have no kids and temperatures in LA are going to stay hot for another month… but that's beside the point. I'm still ready for all the apple and pumpkin-spice things that fall will bring!)
One of the dishes that is always a must-have for barbecues and picnics both, is potato salad. And this version ought to make an appearance at your Labor Day celebration this weekend! While I'm all for mayonnaise-heavy potato salads, this version is great because it's a little lighter (who wants to go swimming in the ocean after feasting on heavy potato salad?), it won't go bad like mayonnaise-based potatoes will in the hot sun, and (if you leave off the bacon and eggs) it's vegan, too!
The tangy-sweet dressing is addictively good, and this goes great with whatever meat (or non-meat) you're grilling or serving alongside. I made this potato salad for my family's Fourth of July celebration, and it was loved by vegans and carnivores alike (seriously, there were no leftovers).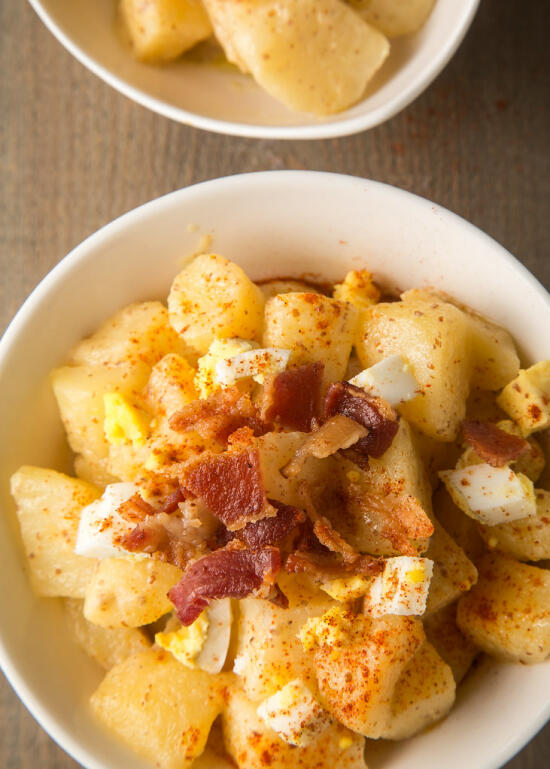 Potato Salad with a Vegan Maple Mustard Dressing, from Cooking and Beer.
Ingredients
1.5 lbs Yukon Gold potatoes, cut into 1″ cubes
3 tbsp whole grain mustard
2 tbsp white wine vinegar
1 tbsp dijon mustard
1 tbsp maple syrup
1/2 cup extra virgin olive oil
salt and pepper
optional toppings:

chopped green onions
chopped parsley
diced hard boiled eggs
crumbled bacon
Cooking Directions
Put the potatoes in a large pot. Fill with just enough water to cover the potatoes, and salt the water generously. Turn the heat to medium-high, and cook the potatoes until just tender, but not mushy. Remove from the stove and drain. Immediately transfer the potatoes to the refrigerator to chill.
In a small bowl, whisk together the whole grain mustard, vinegar, dijon mustard, and maple syrup until completely smooth. Continue to whisk as you start drizzling in the olive oil, and don't stop whisking the dressing until it is perfectly smooth.
Toss the potatoes with the dressing and add salt and pepper to taste. Garnish with the optional toppings, or leave them on the side for everyone to garnish their own potato salad. Eat immediately, or refrigerate until you are ready to serve!
Enjoy!