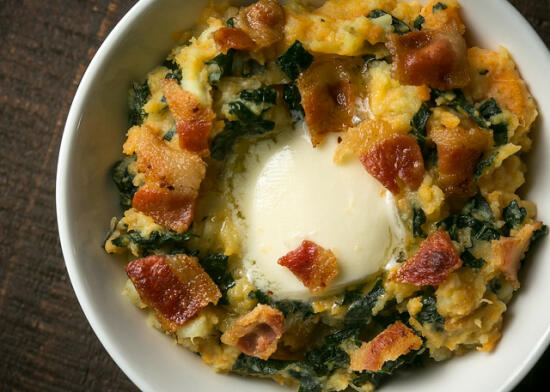 Happy St. Patrick's Day!
I know you might be wondering… who abducted Allison and replaced her with someone who posts regular, timely blog posts?!?!
Well, if it makes you feel any better, I made this recipe, oh… about a year and a half ago. And it's been sitting in my "to blog" backlog ever since then.
It may not have even occurred to me to blog about it this week, except that my family has randomly decided to celebrate St. Patrick's Day (for possibly the first time ever). I've been tasked with bringing a side dish that our vegan guest can eat, so I'm making this (without the bacon and butter, of course)!
If you're not vegan, this dish is also fantastic with the addition of bacon and butter. 😀
Recipe from Tastespotting.
Ingredients
3 lbs sweet potatoes, scrubbed, chopped into large chunks
1/2 cup olive oil
salt and pepper
1 large bunch of kale, ribs removed, sliced into thin ribbons
butter, for serving (optional)
bacon, cooked, crumbled (optional)
Cooking Directions
Put sweet potatoes in large pot, and fill with enough cold water to cover them by about 2 inches. Bring to a boil, reduce heat, and simmer until sweet potatoes are tender, about 15 minutes.
Reserve about 1/2 cup of cooking water, then drain the sweet potatoes. Remove skins.
In another pot, boil the sliced kale until tender, about 10 minutes. Drain and reserve.
Mash the sweet potatoes with olive oil, adding cooking water to get the desired consistency. Season the potatoes with salt and pepper, to taste.
Stir in cooked kale.
For non-vegan guests, you can stir in butter, and/or top with cooked, crumbled bacon.
Enjoy!