Everybody loves getting packages in the mail.
Especially packages of cookies.
And as certain people know, I really like baking and sending packages of cookies to people.
The battle against childhood cancer is also something that's near and dear to my heart, because my younger brother had leukemia twice, as a child and a teenager. (He's been in remission for a few years now.)
So when I heard about the 2nd Annual Great Food Blogger Cookie Swap, benefiting Cookies for Kids' Cancer, I signed up instantly.
We were all required to make a small donation to Cookies for Kids' Cancer (if you'd like to donate, there's a donate button at the bottom of the Great Food Blogger Cookie Swap page), and then they sent us each the addresses to three other bloggers who had signed up, and we were required to send a dozen cookies to each of them.
Another requirement was that we had to send cookies that we had never blogged about. So I spent a good bit of time looking through all the cookie recipes I had bookmarked to make in the future. It was a hard decision, but after setting aside the ones that would be too fragile to ship, the ones that seemed overly complicated, and the ones that just seemed too ordinary, I settled on these lemon crinkles.
I had doubled the batch, knowing that I would eat some, and wanted to give some to my mom (who loves lemon sweets), but good gosh, the moment they came out of the oven I was afraid there wouldn't be any left to ship! There wasn't anything wrong with the recipe… no, quite the opposite. One bite led to another, and before I knew it I had eaten ten (yes, seriously, ten!) cookies right off the cooling rack.
I promise you I'm not normally this much of a glutton, but with these cookies, especially fresh out of the oven, you just can't help yourself. They're light and soft, so it feels like you're hardly eating anything, and the lemon flavor is refreshing enough that you just want to keep eating more!
My cookies (and some almond toffee covered in chocolate) went off to Brynn, Melissa, and Bonnibella. Hopefully you all enjoyed the cookies and toffee!
And if you're wondering what fantastic, delicious cookies I received…
Kate from Fleur-De-Licious sent me Halloween Candy Cookies…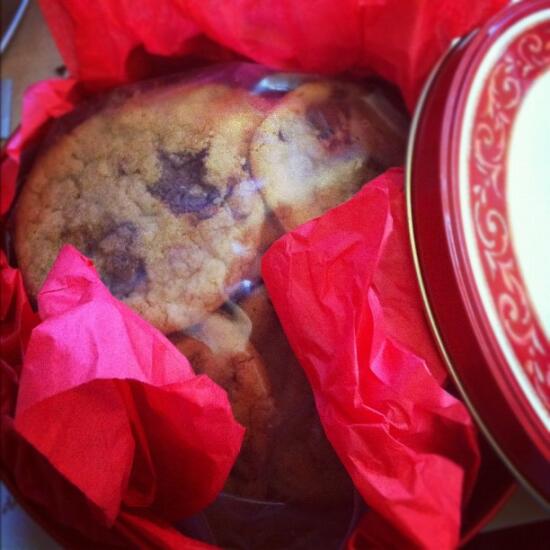 Bailey from Bailey Bakes sent me Vanilla Crescent Cookies…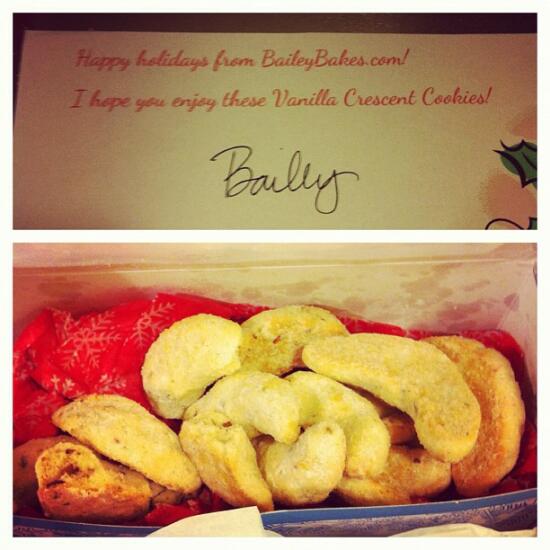 and Jessica from A Kitchen Addiction sent me Chocolate Peppermint Crinkles!
Lemon Crinkles
Recipe from Lauren Brennan
Ingredients
1/2 cup butter, softened
1 cup granulated sugar
1/2 tsp vanilla extract
1 egg
1 tsp lemon zest
1 tbsp fresh lemon juice
1/4 tsp salt
1/4 tsp baking powder
1/8 tsp baking soda
1 1/2 cup all-purpose flour
1/2 cup powdered sugar
Cooking Directions
Preheat oven to 350°F. Line your baking sheets with parchment paper, set aside.
In a large bowl, cream butter and sugar together until light and fluffy. Whip in vanilla, egg, lemon zest, and lemon juice. Scrape sides and mix again. Stir in the salt, baking powder, baking soda, and flour slowly until just combined. Scrape sides of bowl and mix again briefly.
Pour the powdered sugar onto a large plate. Roll a heaping teaspoon of dough into a ball and roll in the powdered sugar, making sure the entire ball is coated, and shaking off the excess sugar. Place balls on the baking sheet about three inches apart.
Bake for 9-11 minutes or until the bottoms begin to barely brown and cookies look matte (not melted or shiny). Remove from oven and cool cookies about 3 minutes before transferring to cooling rack. Once cool, store in an airtight container.
Enjoy!