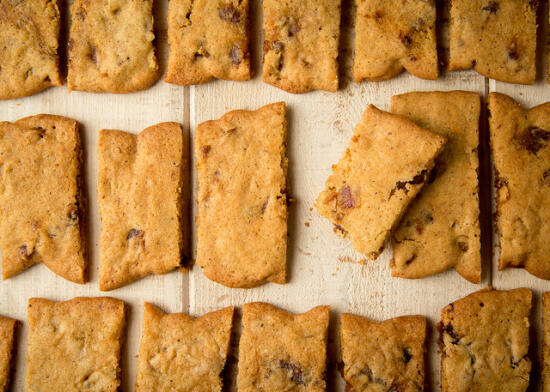 When remembering my grandmother, everyone talks about the food she made. Especially her wontons. Always her wontons.
She would make huge batches of wontons for family gatherings, for her coworkers, even to sell at fundraising events when my mom and her siblings were in high school. (Four wontons for 25¢ – what a deal!) When she passed away a couple of months ago, several people, from different parts of her life, stood up to share their memories of her. Every single one of them mentioned her delicious wontons.
I'll always remember her wontons, which still make an appearance at family gatherings.
I'll remember the white chocolate peanut butter ritz cookies she kept in a bag in her freezer, that she would stealthily send home with my brother because he loved them so much.
I'll remember her yam pie, which is way more delicious than any pumpkin pie I've ever tried.
But most of all, I'll remember her date nut bars. As a child, they were my absolute favorite thing that she made. (Which says a lot, because there's a good reason why she's so fondly remembered for those amazing wontons of hers!) Even though they sound healthy, they were always a huge treat when she made them. And now, even though it's been years since she's made them, all it takes is one bite to know that yes, this tastes exactly right.
(And it seems that I'm not the only one – it's a good thing I made extra, because my brother, who's usually a health freak, has gone through at least four dozen of them. And when I brought them to our Thanksgiving celebration, the whole family demolished them!)
Although they seem simple, and maybe a little boring, these are easily the favorite of the four cookies I made for The Great Food Blogger Cookie Swap – even more so than those scrumptious Gooey Chocolate Peanut Butter Cup Cookies!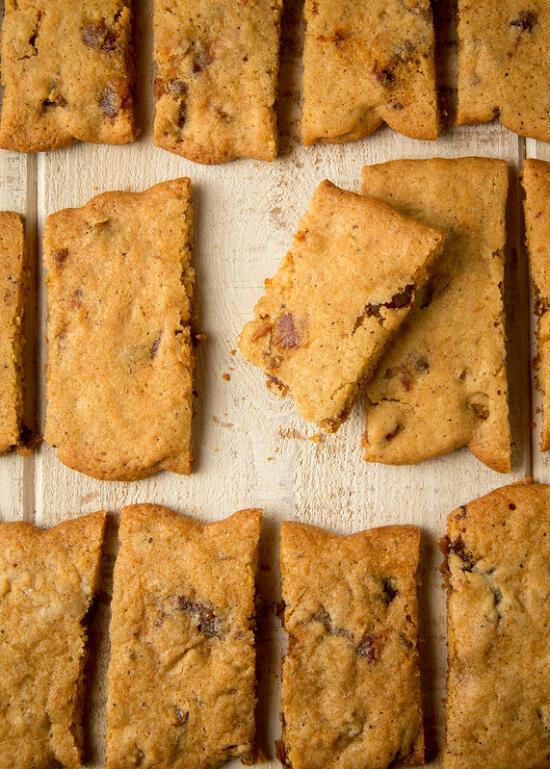 Date Nut Bars
Ingredients
3 cups all-purpose flour
1 tsp ground cinnamon
1 tsp ground nutmeg
1/4 tsp ground cloves
dash of salt
2 cups sugar
1 cup unsalted butter, softened
3 large eggs
1 cup chopped pitted dates
1 tsp baking soda dissolved in 2 tsp water
1 cup chopped walnuts
Cooking Directions
Mix flour, cinnamon, nutmeg, cloves, and salt. Beat sugar and butter in a large bowl with electric mixer until light and fluffy. Beat in eggs, one at a time. Add dates and dissolved baking soda. On low speed, gradually beat in flour mixture. By hand, stir in nuts. Chill several hours until firm.
Heat oven to 300°F. Line baking sheets with parchment paper.
Form dough into rolls, about the thickness of your index finger and about ten inches long, on a lightly floured surface. Place two rolls five inches apart on each prepared baking sheet. Flatten rolls so they are about two inches wide – they will be very thin.
Bake for no longer than 15 minutes. While hot, cut into one-inch slices. Cool on baking sheets for about five minutes, then remove to cooling racks and let cool completely. Makes about five dozen.