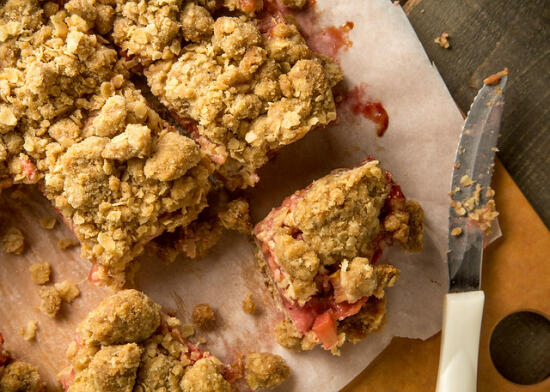 Rhubarb.
Food bloggers FLIP OUT about rhubarb season every year, but I never really understood why.
Tart red celery, in desserts… er… yum?
I tried rhubarb for the first time on our Europe trip last year… and absolutely hated it. -_-
At that point, I figured rhubarb to be one of those things that you're *supposed* to be totally into, but is really kind of gross.
Like kale.
(Heh. Please don't kick me out of California for that. ;))
Then we got to go to Gjelina with a client, and they decided to order the warm strawberry and rhubarb crisp with almond gelato. I was not even a little bit expecting to like it, and got my MIND. BLOWN.
Rhubarb! I totally get it now. 😀
So now that I'm a new rhubarb convert, I decided this was the year to try actually cooking with it.
~~~~~~~~~~
Since coming back from our Europe trip last year, I've been trying to reproduce all of the tasty things we ate on that trip. (This is also why it's taken me so long to get around to blogging about the trip.)
I imagine the rhubarb dish we had shouldn't have been *that* awful… so I ordered a little bit of rhubarb in one of my weekly Farm Fresh to You CSA boxes, with the intent of attempting a better version of it.
Turns out, I waaaaaaay mis-estimated the amount of rhubarb I should order… and ended up with a refrigerator chock full of rhubarb stalks.
Oops.
However, in a wonderful coincidence, I also had about a quarter-flat of strawberries in the fridge that desperately needed to be used up.
Strawberries and rhubarb! Classic combination, right?
I thought about trying to reproduce the Gjelina crisp, but then realized I wanted something that would be easier to share.
These strawberry rhubarb crisp bars from Smitten Kitchen fit the bill perfectly.
I made a few changes, mostly because I wanted to use up all the leftover strawberries and rhubarb I had (so I upped the amount of filling, and doubled the recipe), and I am very pro-crumble (moar crumble!!!).
But these bars have put the strawberry-rhubarb flavor combination solidly in my list of favorites. Sweet strawberries mix with tart rhubarb to keep these from being so sweet your teeth hurt, and all the crumble (ALL the crumble!) adds a nice crunchy heartiness to it.
Plus, it's fruit and oatmeal… so totally healthy, right? 😉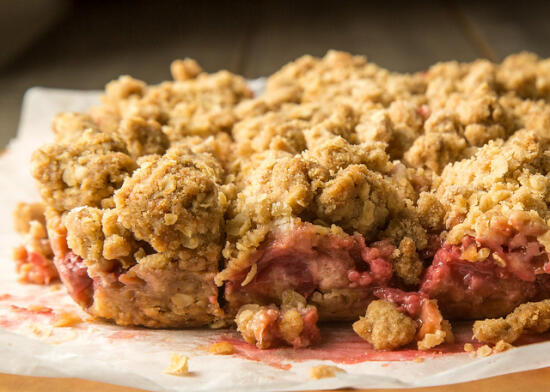 Strawberry Rhubarb Crumble bars, adapted from Smitten Kitchen.
Ingredients
2 cups (160g) rolled oats
1.5 cups (190g) all-purpose flour
1 cup (190g) light brown sugar
1/2 tsp table salt
12 tbsp (170g) unsalted butter, melted
1.5 tsp cornstarch
1.5 tbsp lemon juice
1.5 tbsp granulated sugar
1.5 cups (190g) diced rhubarb (about 2-3 stalks)
1.5 cups (230g) diced strawberries
Cooking Directions
Heat oven to 375°F. Line an 8×8″ square baking pan with parchment paper, so they'll be easy to remove.
Mix oats, flour, brown sugar, and salt in a large bowl. Add melted butter, and stir until medium-sized clumps form. (Mine ranged from pea-sized to grape-sized, and that worked wonderfully.) Press half of the crumble mixture evenly into the bottom of the pan.
Spread the fruit over the crust. Make sure both types of fruit are spread evenly, so every bite gets a bit of each. Sprinkle evenly with the cornstarch, lemon juice, and granulated sugar.
Spread the remaining crumble evenly over the fruit, and bake bars for 30-40 minutes, until the fruit is bubbly and the crumble is golden and smells delicious.
Let cool in pan; Deb recommends doing this in the fridge, so they'll become crisp once chilled, and that worked out great for me. Cut into squares to serve. Store leftovers in fridge.
Enjoy!