Happy Independence Day!
Ever since making these strawberry rhubarb crumble bars, they've become a family favorite and I've found they're very adaptable.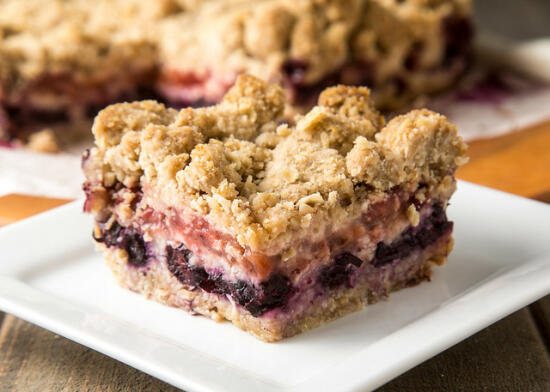 Since we have a vegan family member these days, I've also tried making these with coconut oil instead of the butter so she could have some too.
Best. decision. ever.
Son and I actually ended up liking the coconut oil version even better! Both versions are delicious, and it's a super easy substitution to make.
Since these bars are so easy to make, it was a simple decision to make them for our 4th of July celebration! Instead of rhubarb, I used frozen blueberries and strawberries for a red, white, and blue theme.
They're so easy to make, and so delicious, that if you're like me and always have frozen fruit on hand, then you have absolutely no excuse not to make them!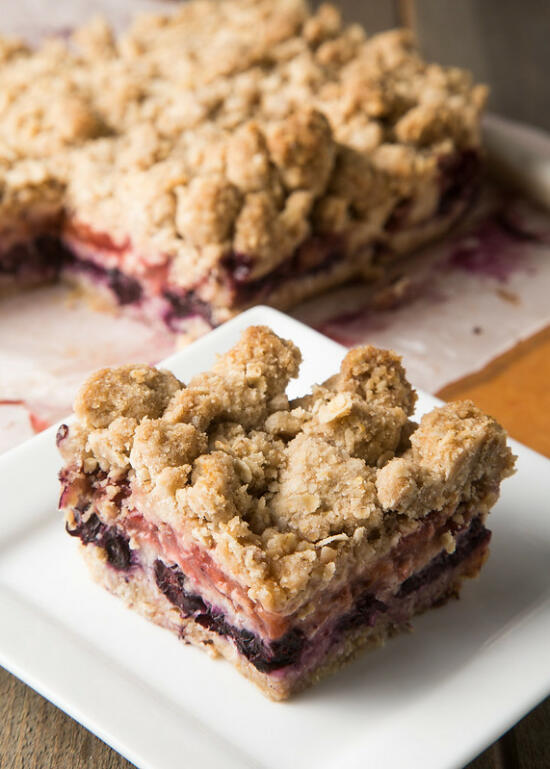 Vegan Blueberry Strawberry Crumble Bars, adapted from Smitten Kitchen.
Ingredients
2 cups (160g) rolled oats
1.5 cups (190g) all-purpose flour
1 cup (190g) light brown sugar
1/2 tsp table salt
12 tbsp coconut oil, melted (or butter, if not vegan)
1.5 tsp cornstarch
1.5 tbsp lemon juice
1.5 tbsp granulated sugar
1.5 cups frozen blueberries, thawed and drained
1.5 cups frozen strawberries, thawed and drained
Cooking Directions
Heat oven to 375°F. Line an 8×8″ square baking pan with parchment paper, so they'll be easy to remove.
Mix oats, flour, brown sugar, and salt in a large bowl. Add melted butter, and stir until medium-sized clumps form. (Mine ranged from pea-sized to grape-sized, and that worked wonderfully.) Press half of the crumble mixture evenly into the bottom of the pan.
Spread the blueberries evenly over the crust. Sprinkle with half of the the cornstarch, lemon juice, and granulated sugar.
Spread a thin layer of the oat mixture over the blueberries.
Spread the strawberries evenly over the crust. Sprinkle with the remaining half of the the cornstarch, lemon juice, and granulated sugar.
Spread the remaining crumble evenly over the fruit, and bake bars for 30-40 minutes, until the fruit is bubbly and the crumble is golden and smells delicious.
Let cool in pan; Deb recommends doing this in the fridge, so they'll become crisp once chilled, and that worked out great for me. Cut into squares to serve. Store leftovers in fridge.
Enjoy!