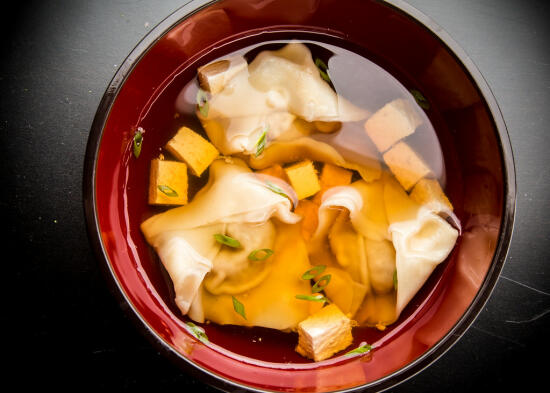 Today's a special day. It's my little brother's birthday (happy birthday, Patrick!), it's the first actual chilly day we've had all fall (up until now, temps have been in the 80s, and even above 100F which is crazy for where I live!), and… it's the release day of Marisa Baggett's new cookbook, Vegetarian Sushi Secrets!
While I'm always excited about sushi cookbooks (that's what happens when your original food blog is all about sushi), this one's especially exciting for me for several reasons. First, we ladies of sushi stick together, and I love Marisa's cookbooks. Secondly, you may have noticed I've been cooking more vegetarian and vegan food – although I still eat meat, I love trying out new recipes for my brother's girlfriend, who is vegan. And thirdly… I had the huge honor of writing a foreword for Marisa's new cookbook!
Of course, in addition to writing a foreword for her cookbook, I just had to try out some of her recipes as soon as she sent me a copy. I'm completely obsessed with her spicy tofu rolls. Her Faux Roe "Boats" are a fun vegetarian take on fish roe gunkan maki. And then, because I wanted to try one non-sushi recipe as well, I made this clear soup with pumpkin dumplings.
This soup is perfect for a chilly autumn day like today. Obviously, it's totally appropriate for the pumpkin-mania that happens as soon as the clock strikes September. And I love the addition of Japanese curry to the dumpling fillings – it's warming, makes the flavor ever so Japanese, and I pretty much always love anything curry. Delicious!
Recipe from Vegetarian Sushi Secrets by Marisa Baggett, out today!
Ingredients
Dumplings
1 cup (220 g) pumpkin puree
1 square Japanese curry base
3 green onions (scallions), thinly sliced
2 teaspoons minced garlic
1/2 bunch fresh coriander leaves (cilantro), roughly chopped
4 teaspoons soy sauce
1/2 cup (30 g) panko breadcrumbs
18 square wonton wrappers
2 teaspoons potato starch, dissolved in 4 teaspoons water
Clear Soup
Cooking Directions
Place a large pot of water over high heat. Bring to a boil.
To prepare the dumplings, combine the pumpkin puree, Japanese curry base, green onions, garlic, coriander leaves, soy sauce, and panko breadcrumbs in a food processor. Pulse a few times, then process until well blended.
Place two wonton wrappers on your work surface. (Keep the remaining wrappers covered with a damp towel.) Spoon 1 tablespoon of the pumpkin mixture in the center of each wrapper. Dip a fingertip in the potato starch mixture and wet the edges of the wonton wrapper. Pull the edges of the wrapper around the mixture and pinch closed. Fold the dumpling so the ends meet and crimp to close. Repeat with the remaining wrappers and filling.
Gently drop the dumplings in the boiling water and then turn off the heat. Stir with a spoon to make sure none of the dumplings stick to the bottom of the pot. Let the dumplings cook for 3 minutes. Remove from the pot with a slotted spoon.
To assemble the soup, lay out 6 medium-sized soup bowls. Place 1/2 teaspoon pumpkin seed oil and 1/2 teaspoon pumpkin seeds in each bowl. Divide the tofu evenly among the bowls. Add 3 warm dumplings to each bowl. Ladle 1 cup (250 ml) of hot dashi into each bowl. Sprinkle with green onions, if desired. Serve immediately.
~~~~~~~~~~
I received a copy of this cookbook for free, as well as provided a foreword for the cookbook. Links in this post may be affiliate links.