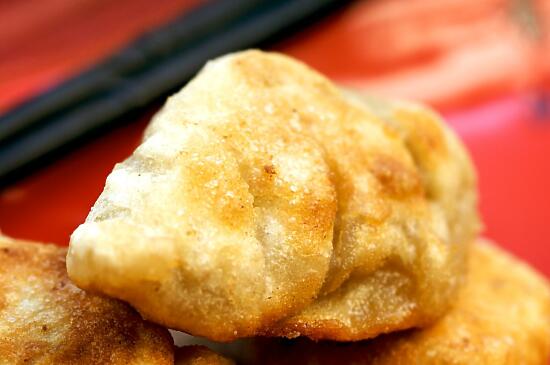 Chinese Shrimp and Pork Potstickers
This month's Daring Cooks challenge is Chinese potstickers/dumplings from Jen Yu of Use Real Butter.
As any good Asian household, Son and I love most any sort of dumplings. Often we'll eat them with ramen or rice, for a delicious meal. But aside from my grandmother's wontons (which are nothing like Chinese wontons… and yes, I know those of you who have tried them want the recipe. I'll make them soon, promise.), I've never made any sort of dumplings from scratch.
So this challenge was definitely a welcome challenge for me. I never would have made dumplings completely from scratch like this (we all know how easily intimidated I am by scary-looking recipes), so I appreciated the push from Daring Cooks to try this.
Holy cow these are good. I used Jen's shrimp and pork filling recipe, and pan-fried them so they were potstickers. (For other filling recipes and instructions for boiling or steaming them, visit Jen's blog.) Okay, so maybe mine weren't nearly as pretty as hers are, but the way I see it, they're like sushi – even if they're falling apart and look terrible, they still taste pretty darn fantastic. They're so good, and worth the extra work, I already have plans to make them again.
I made a double batch, and froze half. Put them on a baking sheet covered in parchment paper (make sure they're not touching) and freeze them. Then fry them like normal, just a little longer than you would if they were fresh. A word to the wise – make sure the potstickers are completely frozen before transferring them to a ziplock bag – otherwise they'll stick together and you won't be able to get some of them unstuck without tearing them, even if you throw the bag against the counter several times. Then you'll just end up frying them as is, and have big lumps of potstickers instead of pretty little nicely formed ones. Not that I'm speaking from experience, or anything.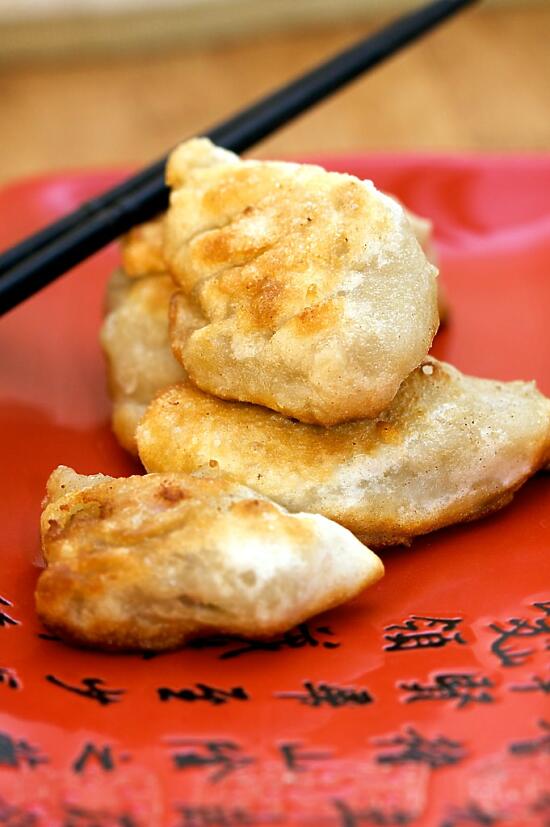 Crispy, delicious, perfect.
Ingredients
Dough:
4 c all-purpose flour
1 c warm water
flour for work surface
Filling:
1/2 lb raw shrimp, peeled, deveined, and coarsely chopped
1/2 lb ground pork
3 stalks green onion, minced
1/4 c ginger root, minced
1 tsp salt
3 tbsp sesame oil
2 tbsp corn starch
Dipping Sauce:
2 parts soy sauce
1 part vinegar (red wine or black)
a few drops of sesame oil
chili garlic paste (optional)
minced ginger (optional)
minced garlic (optional)
minced green onion (optional)
sugar (optional)
Cooking Directions
In a large bowl mix the flour with 1/2 of the water and stir until water is absorbed.
Continue adding water one teaspoon at a time and mixing thoroughly until dough pulls away from sides of bowl. We want a firm dough that is barely sticky to the touch. If the dough is too hard or dry, feel free to add a little more water.
Knead the dough about twenty strokes then cover with a damp towel for 15 minutes.
Take the dough and form a flattened dome.
Cut into strips about 1 1/2 to 2 inches wide.
Shape the strips into rounded long cylinders.
On a floured surface, cut the strips into 3/4 inch pieces.
Press palm down on each piece to form a flat circle (you can shape the corners in with your fingers).
With a rolling pin, roll out a circular wrapper from each flat disc. Take care not to roll out too thin or the dumplings will break during cooking – about 1/16th inch. Leave the centers slightly thicker than the edges.
Place a tablespoon of filling in the center of each wrapper and fold the dough in half, pleating the edges along one side (see images in this post for how to fold pleats). Keep all unused dough under damp cloth.
Repeat until you have used up the dough and filling.
Place dumplings in a frying pan with 2-3 tbsp of vegetable oil.
Heat on high and fry for a few minutes until bottoms are golden.
Add 1/2 cup water and cover. Cook until the water has boiled away and then uncover and reduce heat to medium or medium low.
Let the dumplings cook for another 2 minutes then remove from heat and serve.
Mix the ingredients for the dipping sauce, and serve with the warm potstickers.