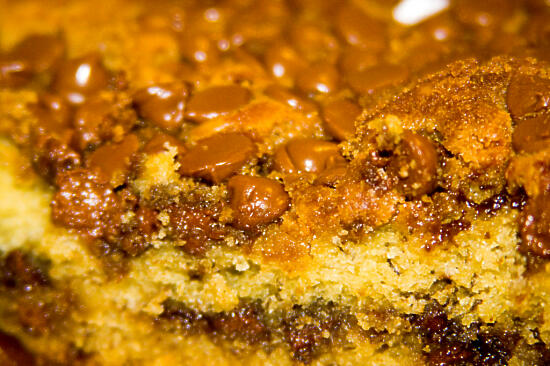 I've had a lifelong love affair with banana bread. I love it straight out of my mother's bread maker, I love it toasted with butter, I love it warmed up with ice cream. I used to bring it to school to eat with lunch, or I would take it to ballet rehearsals as a more or less healthy snack to keep my energy up. But all my life, I've only ever had one banana bread recipe.
Of course, I couldn't go on living my life like that. For one thing, I have no bread maker at my apartment. So making my mother's recipe wasn't an option. I've tried a few other recipes, but I just haven't been able to find a recipe I liked just as much as the one I grew up on. Until I found this recipe. Now, I've made banana chocolate chip muffins before, so the combination of chocolate and banana is one I'm very familiar with. But to make it like coffee cake? A new, and very delicious concept to me. This is the perfect breakfast bread, absolutely divine with a cup of coffee, hot chocolate, or tea (whichever you fancy). I can't eat more than a little at a time because it is incredibly rich, but by no means is this a problem… that just means it will last a little longer! (Which doesn't say much… I ate it for breakfast, snacks, and dessert.)
Ingredients
1 cup butter
2 cups sugar
2 eggs
1 tsp vanilla
3 ripe bananas (mashed)
3 cups flour
2 tsp baking powder
2 tsp baking soda
1 cup sour cream or plain yogurt
tsp cinnamon
1 cup brown sugar
1-1/2 cups milk chocolate chips
Cooking Directions
Cream together butter and sugar.
Add eggs and beat until smooth.
Add vanilla and bananas.
Mix well till smooth.
Sift flour, baking powder and baking soda.
Add to banana mixture alternately with sour cream, ending with dry ingredients.
Pour half of the batter into 9 x 13-inch pan.
Combine cinnamon and brown sugar.
Sprinkle 1/2 of this mixture over batter in pan.
Top with 1/2 of the chocolate chips.
Repeat layers.
Bake in 350F oven for 45 – 50 minutes.