Happy New Year!
My one resolution for blogging this year is to stop worrying so much. Stop worrying if people like the stuff I post. Stop worrying if I'm posting on the right day. Stop worrying that it's already been two years since I traveled to Europe and I still haven't posted about it because I just can't quite get the posts to be perfect… just stop worrying. It's all fine! Better to post imperfectly than not post at all, right?
And on that note, I'm starting up my Weekly Wanderings posts again! They faltered under the weight of perfectionism as well, which is silly because I love writing these, and even more than that I love having them to look back on what I was doing and thinking throughout the year. So onward, upward (and yes, there will be some back-posting as I catch up on the ones I missed…) and happy 2016!
~~~~~~~~~~
We've been taking a lot of long walks around our neighborhood lately, exploring the city (and getting plenty of exercise). On one such walk, I found a pig, and loved it so much I had to go back and get a photo of it.
~~~~~~~~~~
It's New Year's, and you know what that means… lots of sushi!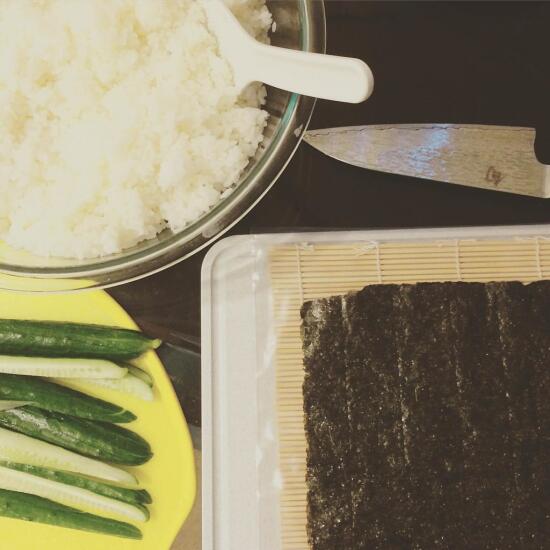 This year, I ended up with: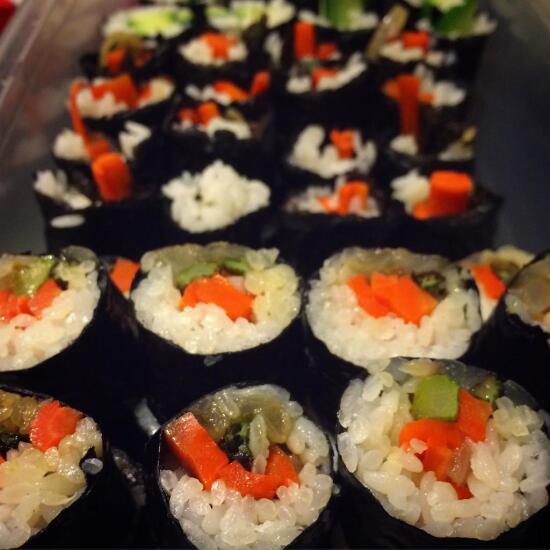 Of course, we always have to start off with ozoni, with my mom's homemade mochi.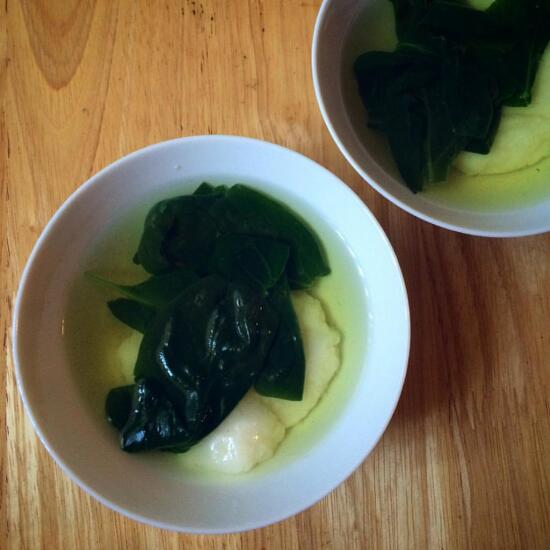 And don't forget your lucky bean! I've been making kuromame every year, with this recipe from Rachael of La Fuji Mama.
As if I didn't have enough to cook, I also decided to make furikake nori rice krispie treats, inspired by this recipe from Joy the Baker (I left out the instant ramen). Mine ended up lumpy (to no fault of the recipe… but possibly because I used vegan marshmallows? or just plain user error, also a possibility…), but they were SO good. My family loved them!
Hope you're having a happy and delicious new year so far!
~~~~~~~~~~
Things I want to eat:
I haven't gotten into oatmeal yet this winter, but when I do I definitely want to make this dulce de leche oatmeal with bananas foster.
Every single thing about this ginger tofu pudding with soy milk mochi and kinako black sesame puddef millet crumble sounds insanely good. A project, but I really want to make it!
I want this smoked paprika potatoes and egg bake for breakfast every morning, please.
I have pretty much all the ingredients for these whole wheat double chocolate avocado muffins in my kitchen… and the avocados need to be eaten… so that means I definitely need to make them, right?
Really, really want to try these chocolate coconut bliss balls.
~~~~~~~~~~