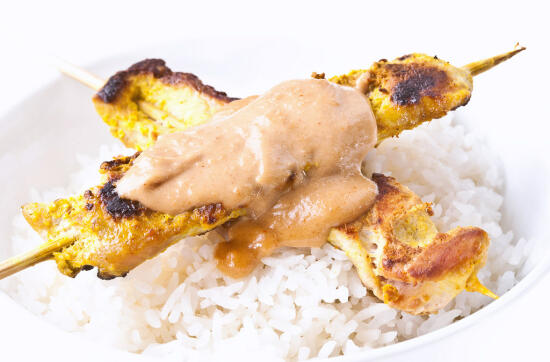 Pork Satay on Rice with Peanut Sauce
The January 2010 DC challenge was hosted by Cuppy of Cuppylicious and she chose a delicious Thai-inspired recipe for Pork Satay from the book 1000 Recipes by Martha Day.
Here at the Day/Nguyen residence, we love Thai food. For a while, we were eating take-out from a local Thai restaurant almost once a week. I go for the pad see ew (or however you spell it – it seems like the spelling is different at every restaurant), he goes for the pad thai or the pineapple fried rice.
But we've never made Thai food at home. Until now. Normally, I'm not a huge fan of satay, or of peanut sauce. Don't know why, but in general it just doesn't do it for me. However with this recipe… we got 20 skewers out of it, and they were gone in one day. Easily. Even if I had made more, we wouldn't have had a problem finishing them. And the peanut sauce? Completely different from any I've ever tried. I couldn't get enough of it. It's one of those sauces that make you kind of want to pour it over everything you eat – it's that good.
Will we be making this again? Oh yeah. No doubt about it.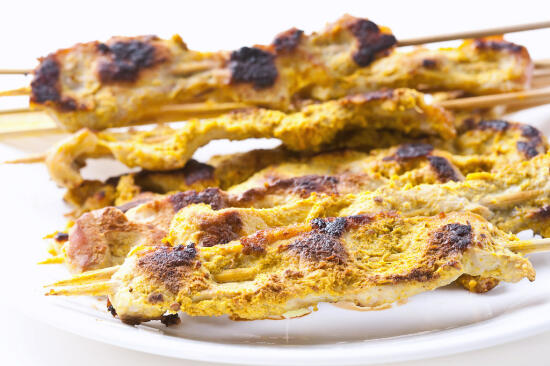 Pork Satay
1/2 small onion, chopped
2 garlic cloves, crushed
1 tbsp ginger root, chopped
2 tbsp lemon juice
1 tbsp soy sauce
1 tsp ground coriander
1 tsp ground cumin
1/2 tsp ground turmeric
2 tbsp vegetable oil (or peanut or olive oil)
1 pound of pork (loin or shoulder cuts)
Cooking Directions
If you have a food processor or blender, dump in everything except the pork and blend until smooth. Otherwise, chop the onions, garlic and ginger really fine then mix it all together in a medium to large bowl.
Cut pork into 1 inch strips.
Cover pork with marinade. You can place the pork into a bowl, cover/seal and chill, or place the whole lot of it into a ziplock bag, seal and chill at least 4 hours.
If using wooden or bamboo skewers, soak your skewers in warm water for at least 20 minutes before preparing skewers.
Gently and slowly slide meat strips onto skewers. Discard leftover marinade.
Broil or grill at 550ยฐF (or pan fry on medium-high) for 8-10 minutes or until the edges just start to char. Flip and cook another 8-10 minutes.
Peanut Sauce
3/4 cup coconut milk
4 tbsp peanut butter
1 tbsp lemon juice
1 tbsp soy sauce
1 tsp brown sugar
1/2 tsp ground cumin
1/2 tsp ground coriander
1-2 dried red chilies, chopped (keep the seeds for heat)
Cooking Directions
Mix dry ingredients in a small bowl. Add soy sauce and lemon, mix well.
Over low heat, combine coconut milk, peanut butter and your soy-lemon-seasoning mix. Mix well, stir often.
All youโ€™re doing is melting the peanut butter, so make your peanut sauce after youโ€™ve made everything else in your meal, or make ahead of time and reheat.