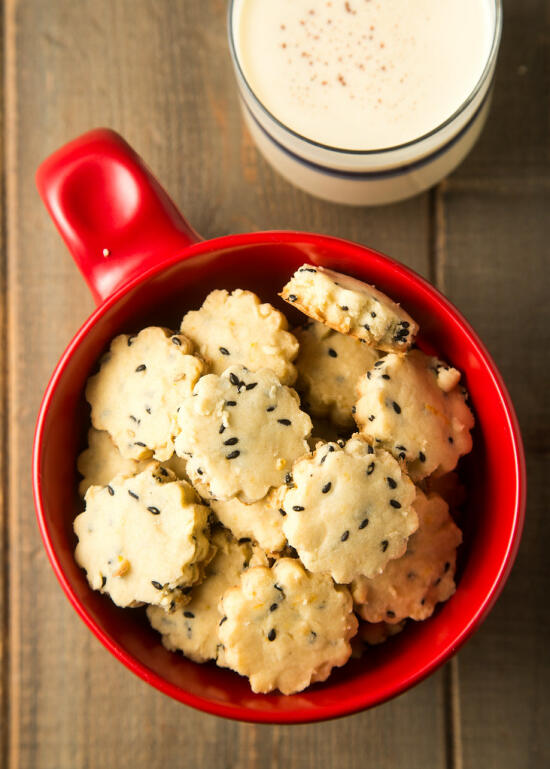 2015 marks the fourth year that I've participated in the Great Food Blogger Cookie Swap! … and the first year that I couldn't get the darn post written by the deadline. Oops.
Not to worry – I definitely got the cookies made and shipped with time to spare, and I'm happy to say that Rebecca of Displaced Housewife, Elizabeth of It's Good to be the Cook, and Sara of Confectionary Tales of a Bakeaholic all received packages of cookies from me right on time.
It's just that awesome things and crappy things and just plain life happened a bit more than usual, and then Lightroom broke so we couldn't even process the photos until we figured out how to get that fixed, and the cookie swap posting deadline came and went and I decided that the posts will happen when they happen (because, yes, as usual I definitely made more than one type of cookie to send) and it's not worth stressing like crazy about.
So.
Cookies!
These Black Sesame Shortbread Cookies were the first of four different types of cookies I sent. They're nutty, and fragrant from the orange zest, and oh so snackable especially when you make them small (mine were quarter-sized). Of the four types of cookies I made, these were my mom's favorite.
Black Sesame Shortbread with Orange Zest
Recipe from SugarHero!
Ingredients
12 oz unsalted butter, at room temperature
4 oz (1 cup) powdered sugar
zest from 1 large orange
1/2 tsp ground cardamom
1/2 tsp salt
15 oz (3 1/2 cups) all-purpose flour
1 1/8 oz (1/4 cup) black sesame seeds
Cooking Directions
Cream together the butter, powdered sugar, and orange zest in a large bowl on medium-low speed just until the sugar is incorporated and the butter is smooth. Add the cardamom, salt, and flour, and mix on low speed until only a few flour streaks remain. Mix in the black sesame seeds with a rubber spatula, scraping the bottom and sides of the bowl and making sure the seeds are well-distributed.
Scrape the cookie dough out onto a piece of plastic wrap, form it into a disc, and wrap it tightly. Put the dough on a flat tray then refrigerate it until firm, at least 30 minutes.
Once firm, preheat the oven to 350°F, and cover two baking sheets with parchment paper. Divide the dough in half and keep the half you're not working with well-wrapped in the refrigerator. Roll out the remaining half between two sheets of lightly floured parchment or waxed paper, until it is about 1/4-inch thick. Cut shapes out of the dough, or cut it into squares with a sharp knife. Arrange the cookies on the baking sheets. The cookies wonโ€™t spread very much while baking, so you donโ€™t need to leave too much room between them. When youโ€™ve cut out all the cookies you can, press the dough together, re-roll it, and return it to the refrigerator to chill while the first batch bakes.
Bake the cookies at 350°F for about 12 minutes, until the edges are very slightly colored. Remove the tray from the oven and let them cool for 5 minutes, then transfer the cookies to a wire rack to cool completely.
Repeat for the second half of the dough. Let cool completely.
Enjoy!