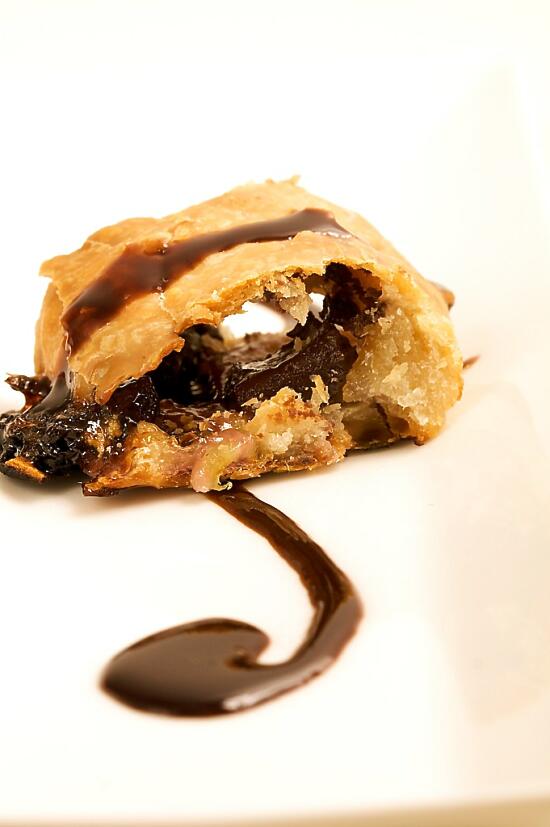 The May Daring Bakers' challenge was hosted by Linda of make life sweeter! and Courtney of Coco Cooks. They chose Apple Strudel from the recipe book Kaffeehaus: Exquisite Desserts from the Classic Cafés of Vienna, Budapest and Prague by Rick Rodgers.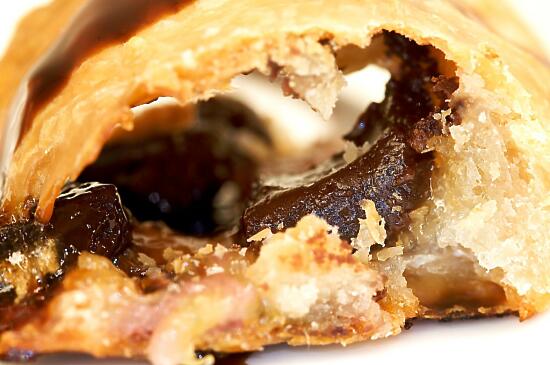 Well. I complained mentioned last month that I wanted a real challenge for Daring Bakers, and that I didn't find cheesecake to be enough of a challenge. Heh. I got that challenge this month.
The challenge was apple strudel, though were were allowed to choose whatever fillings we wanted as long as we made the strudel dough. Oh man. It looked scary. And as you can probably tell, I ended up procrastinating until the last minute on it (I made it yesterday!) But, aside from a momentary scare when the dough looked more like a batter (I had forgotten the 1/3 cup of flour), it was actually doable.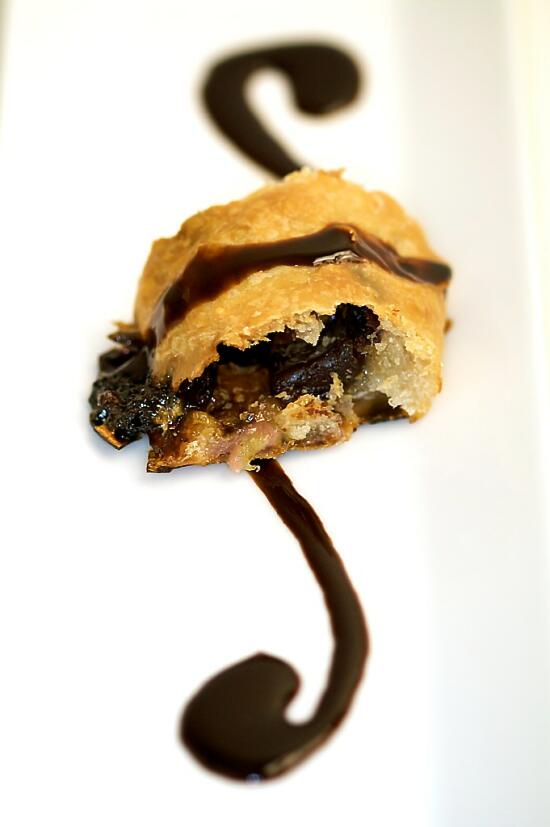 Now, I am not much of a fan of apple desserts. I don't like apple pie (though I can always go for an apple fritter!) So I was very glad to read that we could pick whatever fillings we wanted. Problem was… I've never had strudel before. So… I really, really didn't know what sort of fillings would work with it. Lucky for me, I work well under pressure. Yesterday, in my last minute baking, I came up with not one, but two ideas!
For my first idea, a chocolate-banana strudel. About a year ago, I was at a friend's house for a barbeque, and we made barbequed bananas stuffed with marshmallows and chocolate. Both Son and I loved them, and I've been meaning to make them ever since. Since I had all the ingredients, I figured heck, why not? These were pretty decent.
But they were nothing compared to the barbeque chicken strudel. We had some barbeque chicken from Son's parents, and I modeled these after a well-known barbeque chicken pizza. With the chicken, bacon, mozzarella cheese, and red onion… these were a definite success. I would go through all the work of making strudel again, just to have these. They were so good.
Since I have a teeny tiny kitchen and very little counter space, there was no way I could make a full-sized strudel. There was just nowhere to stretch out the dough like that. So instead, I made an entire batch of dough, then split it into three different pieces and made three little baby strudels. And (oops) I forgot the butter for all three strudels. But they still turned out well (thank goodness!)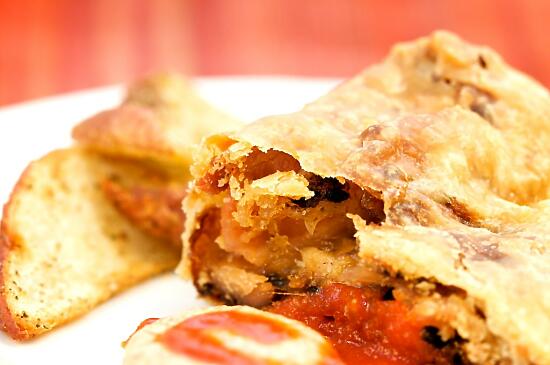 Ingredients
1 1/3 c unbleached flour (I used all-purpose flour)
1/8 tsp salt
7 tbsp water, plus more if needed
2 tbsp vegetable oil, plus additional for coating the dough
1/2 tsp cider vinegar
5 tbsp melted butter
For the chocolate-banana strudel:
1 banana, sliced
6 marshmallows, cut into quarters
chocolate, broken into pieces
For the barbeque chicken strudel:
2 cups barbeque chicken, shredded
1 cup grated mozzarella cheese
several slices of red onion
6 strips of bacon, cooked, crumbled
Cooking Directions
Combine the flour and salt in a stand-mixer fitted with the paddle attachment. Mix the water, oil and vinegar in a measuring cup. Add the water/oil mixture to the flour with the mixer on low speed. You will get a soft dough. Make sure it is not too dry, add a little more water if necessary.
Take the dough out of the mixer. Change to the dough hook. Put the dough ball back in the mixer. Let the dough knead on medium until you get a soft dough ball with a somewhat rough surface.
Take the dough out of the mixer and continue kneading by hand on an unfloured work surface. Knead for about 2 minutes. Pick up the dough and throw it down hard onto your working surface occasionally.
Shape the dough into a ball and transfer it to a plate. Oil the top of the dough ball lightly. Cover the ball tightly with plastic wrap. Allow to stand for 30-90 minutes (longer is better).
It would be best if you have a work area that you can walk around on all sides like a 36 inch (90 cm) round table or a work surface of 23 x 38 inches (60 x 100 cm). Cover your working area with table cloth, dust it with flour and rub it into the fabric. Put your dough ball in the middle and roll it out as much as you can.
Pick the dough up by holding it by an edge. This way the weight of the dough and gravity can help stretching it as it hangs. Using the back of your hands to gently stretch and pull the dough. You can use your forearms to support it.
The dough will become too large to hold. Put it on your work surface. Leave the thicker edge of the dough to hang over the edge of the table. Place your hands underneath the dough and stretch and pull the dough thinner using the backs of your hands. Stretch and pull the dough until it's about 2 feet (60 cm) wide and 3 feet (90 cm) long, it will be tissue-thin by this time. Cut away the thick dough around the edges with scissors. The dough is now ready to be filled.
Put the rack in the upper third of the oven and preheat the oven to 400°F (200°C). Line a large baking sheet with baking paper (parchment paper).
Spread about 3 tbsp of the melted butter over the dough using your hands (a bristle brush could tear the dough, you could use a special feather pastry brush instead of your hands). Spread the fillings about 3 inches from the short edge of the dough in a 6-inch-wide strip.
Fold the short end of the dough onto the filling. Lift the tablecloth at the short end of the dough so that the strudel rolls onto itself. Transfer the strudel to the prepared baking sheet by lifting it. Curve it into a horseshoe to fit. Tuck the ends under the strudel. Brush the top with the remaining melted butter.
Bake the strudel for about 30 minutes or until it is deep golden brown. Cool for at least 30 minutes before slicing. Use a serrated knife and serve either warm or at room temperature. It is best on the day it is baked.