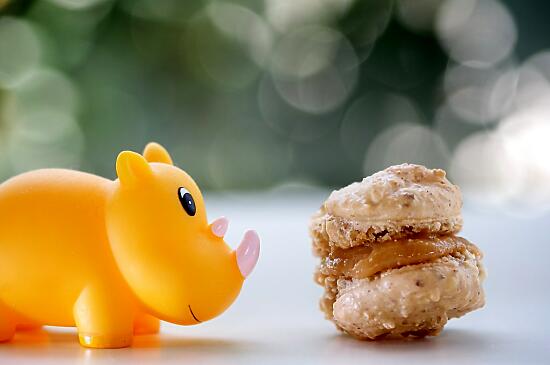 Every now and then, I come across a food that simply intrigues me. One that I've never had before, but that people often talk about and I think I would like to try it, even if people don't always like said food. One such food was brussels sprouts (which I tried for the first time earlier this year and discovered I quite enjoy them.) Another was macarons. Not that you can blame me. After seeing them so often on
Helene's blog
and on other food blogs around the internet, I just had to know what this new, fascinating dessert that I had never seen before tasted like.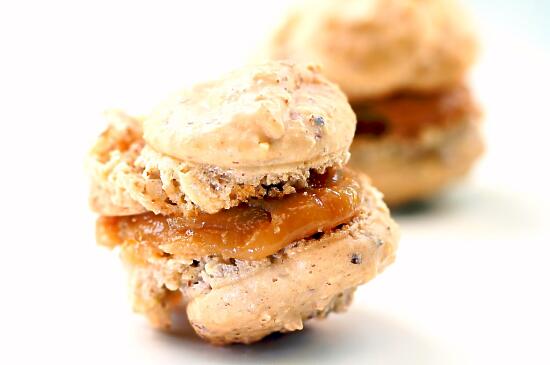 So they're not the prettiest macarons…
So, on a whim, I baked up a batch. Well, not quite on a whim. I didn't actually get around to baking them until a week after I decided I wanted to… at first I had no almonds, then I had no time, and then… well. Here they are. These macarons… oh man. The first bite… heaven. The second… euphoria.  Oh my goodness.  By far the best cookies (or cookie-type baked goods) that I've ever had.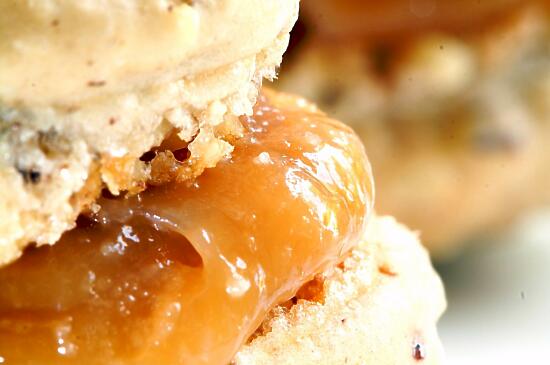 …but with that oooey gooey caramel…
Here's the recipe, which I slightly adapted from
Tartelette's Pecan Pie Macarons
. Mine didn't turn out nearly as pretty as hers did. I have a feeling I might have piped the macarons too thickly on the parchment paper, so when baking they may have risen too much and then fallen over so they ended up lopsided. I also opted to leave out the pecan brittle. But they still tasted great, and I would make them again without hesitation.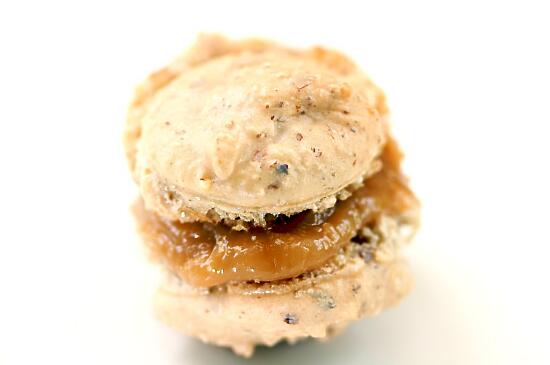 …they're the best cookies I've ever had.
Ingredients
3 egg whites (about 90 g)
40 g granulated sugar
200 g powdered sugar
55 g almonds
55 g pecans
240 g sugar
80 ml water
115 g salted butter
150 ml heavy whipping cream
Cooking Directions
The day before (24hrs), separate your eggs and store the whites at room temperature in a covered container. If you want to use 48hrs (or more) egg whites, you can store them in the fridge.
In a stand mixer fitted with the whisk attachment, whip the egg whites to a foam. Gradually add the sugar until you obtain a glossy meringue. Do not overbeat your meringue or it will be too dry.
Combine the almonds, pecans and powdered sugar in a food processor and give them a good pulse until the nuts are finely ground.
Add them to the meringue, give it a quick fold to break some of the air and then fold the mass carefully until you obtain a batter that flows like magma or a thick ribbon. Give quick strokes at first to break the mass and slow down.The whole process should not take more than 50 strokes. Test a small amount on a plate: if the tops flattens on its own you are good to go. If there is a small beak, give the batter a couple of turns.
Fill a pastry bag fitted with a plain tip (Ateco #807 or #809) or a ziplock bag with one tip cut off with the batter and pipe small rounds (1.5 inches in diameter) onto parchment paper lined baking sheets.
Preheat the oven to 300°F.
Let the macarons sit out for 30 minutes to an hour to harden their shells a bit and bake for 15-20 minutes, depending on their size. Let cool.
If you have trouble removing the shells, pour a couple of drops of water under the parchment paper while the sheet is still a bit warm and the macarons will lift up more easily do to the moisture. Don't let them sit there in it too long or they will become soggy. Once baked and if you are not using them right away, store them in an airtight container out of the fridge for a couple of days or in the freezer.
In a heavy saucepan set over low heat, combine the sugar and water and heat just until the sugar is dissolved.
Add the butter. Let it come to a boil and cook until it reaches a golden caramel color.
Remove from the heat and add the cream (it will splatter, but that's okay). Whisk to combine and put back on the stove. Let it come to a boil again over low heat and cook 10-15 minutes until you reach a nice creamy consistency.
Refrigerate for a little while before spreading the caramel onto the shells, so it doesn't ooze out when you press the shells together. (If it's too hard when you take it out from the refrigerator, just let it sit at room temperature for a little while until it's at the right consistency.)
Place about a tablespoon of sauce on one shell, then top with a similarly-shaped shell. Repeat with all remaining shells. Makes about 20.