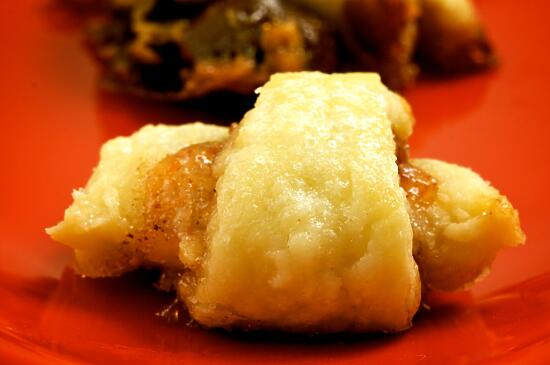 When I heard this week's Tuesdays with Dorie pick by Piggy of Piggy's Cooking Journal was rugelach, well, I was a bit skeptical. I've never even heard of rugelach, never mind actually ever having some. So you can understand why I might be a wee bit nervous about making a brand new sweet, especially when I still have baked goods from previous weeks laying around.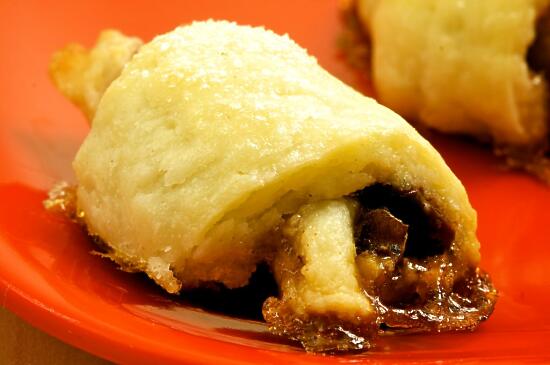 See the gooey jam and chocolate oozing out?
Oh man, were my worries unfounded. Although I was reminded of something I had made before by the way they were rolled, the rugelach were so much better. Seriously. I ate four as soon as they were cool enough to touch. It's possible that there won't be any left tomorrow.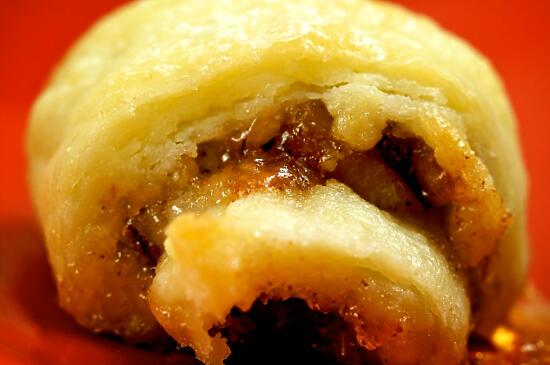 Just look at that… yummy, sweet, gooey…
Rather than using the exact fillings that Dorie lists, I used her suggestions more as guidelines. For the jam, I used my favorite jam in the whole wide world – my grandmother's strawberry jam. Seriously, I'm spoiled. I won't eat any other jam. (Remind me to get that recipe from her someday… I must learn to make it!) I used just a sprinkling of pecans for the nuts (I'm not a huge nut fan), and a ton of chocolate. What? I like chocolate. Although a lot of the jam melted all over the pan rather than staying in the rugelach, it still turned out wonderfully. And very addictive. I have a feeling these (along with the biscotti) may be making another appearance during the holidays…