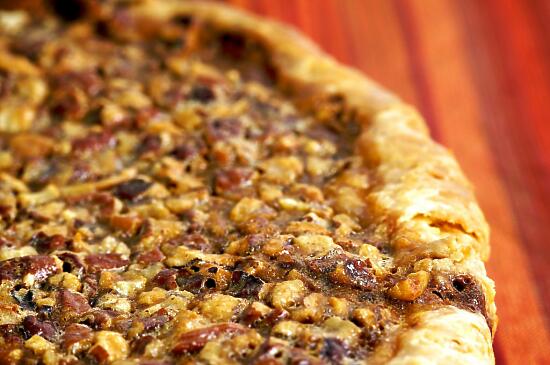 I love pumpkin pie. I love pecan pie. So why not both in one?
Even though she isn't from the US, Vibi of La Casserole Carreé chose the Thanksgiving Twofer Pie for this week's Tuesdays with Dorie recipe. Very thoughtful of her, because this is perfect for those of us in the US who needed a pie to bring to our Thanksgiving celebrations… like me! (I hope my family likes it as much as Son and I do!)
I know a lot of people had problems with this pie – although I had to bake the pie at 300° for twice as long as the recipe called for, there was no burning and the pie tastes wonderful. Very festive.
Oh, and there were also complaints about having too much filling. I doubled the recipe to make two pies, and with what was left over I made a mini pie in a custard cup… perfect!
Erm, and then there was that issue of rum. Yeah… I don't drink alcohol. Son doesn't drink alcohol. So spending that much for a huge bottle of rum that we'll never use? Definitely not. However… over the summer, we were lucky enough to be invited to an awesome dinner party held by Diane and Todd of White on Rice Couple. There was a gift exchange, and we got a bottle of walnut liqueur from Brooke of Food Woolf. For a while we were scratching our heads, not quite sure what to do with it, but now we've finally found a solution! The subtle walnut liqueur works amazingly with the pumpkin pie filling and nutty pecan pie topping.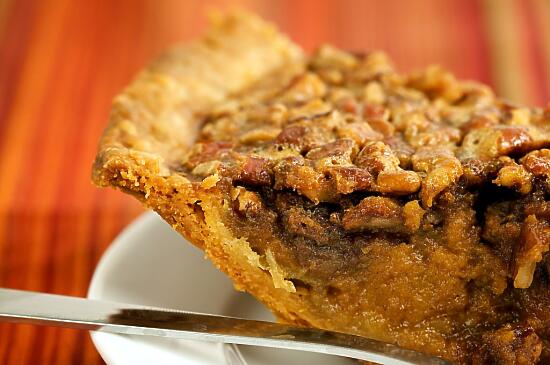 Here, have a slice of pie.
Plus, I have another reason to love this pie. Before this pie, I have never, ever had a pie turn out well. Either the pie ends up looking more like a turkey, or the filling never sets… it's never a very pretty pie. Until now!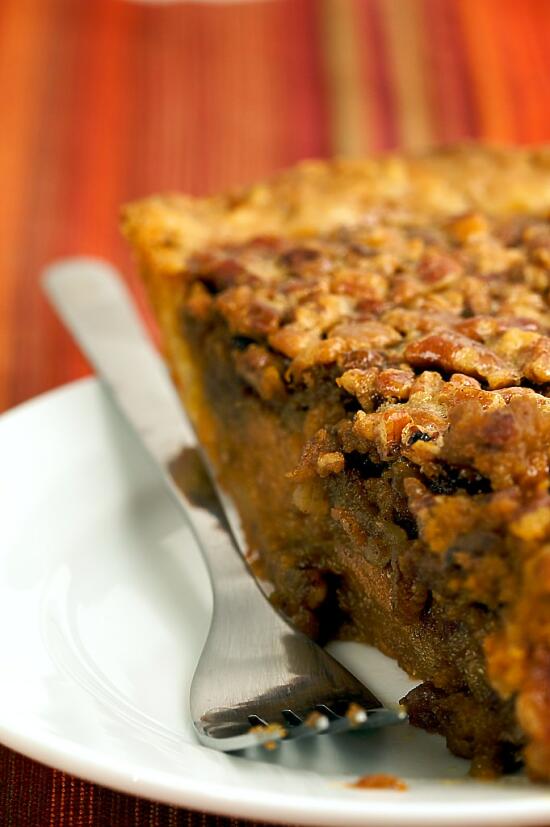 Pumpkin AND Pecan in one pie… yum!