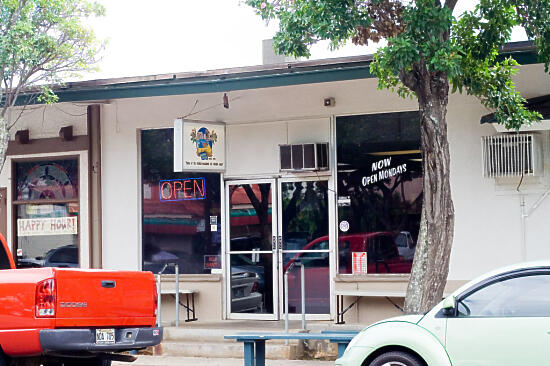 I'm the type of girl who's got to have her breakfast. Without it, I get cranky from hunger and wobbly from lack of energy… I can't possibly be much fun to deal with. (Poor Son, he has to deal with me every time I don't get breakfast! Thankfully not often…) Lucky for me, I've got a darling boyfriend who will look up places we can go find breakfast while we're on vacation. I'm such a lucky girl to have him.
On the Tuesday while we were in Hawaii, we had decided to go to the botanical gardens on the east side of the island of Oahu, and then head to the Byodo-In temple afterwards. (We didn't make it to the temple until later in the week, but only because we managed to miss the turn-off… oops! Found some nice beaches and awesome tide-pools though, so it was a worthwhile mistake.) Since we were going to be in the Kailua area anyways, we decided to head over to Boots & Kimo's Homestyle Kitchen. They are famous for their pancakes with macadamia sauce, so we figured it would be hard to go wrong there.
We ordered the pancakes with macadamia sauce of course, and also a spam omelet. We had hoped to try their fried rice as well, but they were unfortunately out of it by the time we got there. The pancakes were amazing – it's not difficult to see why they are known for their pancakes! The flapjacks were sweet, soft, moist… really nothing I could find wrong with these. I believe three or four came stacked on a plate and smothered with the macadamia nut sauce. The sauce… delicious. Sweet but not overpowering, with a definite macadamia nut flavor.
The spam omelet was delicious as well. As I've mentioned before, I grew up with spam scrambled with eggs, so this was a pleasant blast to the past. The omelet also contained cheese, which made it just a wee bit too rich. Son and I shared an order of pancakes and the omelet (which came with a side of hash browns), and we were unable to finish all the food. Just a bit too much for us.
If for nothing else, go to Boot's & Kimo's for their pancakes… it's entirely worth the trip.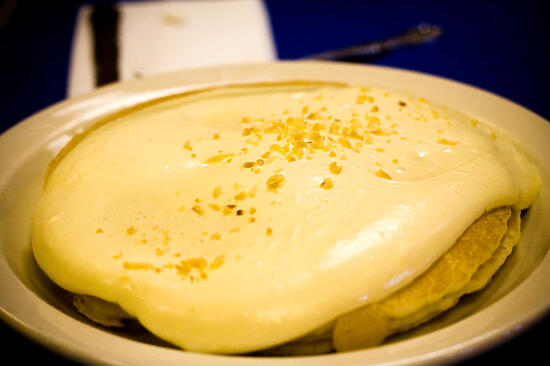 Pancakes smothered in Macadamia Nut Sauce
Note: To all TWD visitors, so sorry I can't post the creme brulee quite yet! My local grocery store had a power outage, so the dairy shelves were next to empty. No whole milk or heavy cream means no creme brulee for me. 🙁 I'll be posting as soon as I can get the ingredients, I promise!