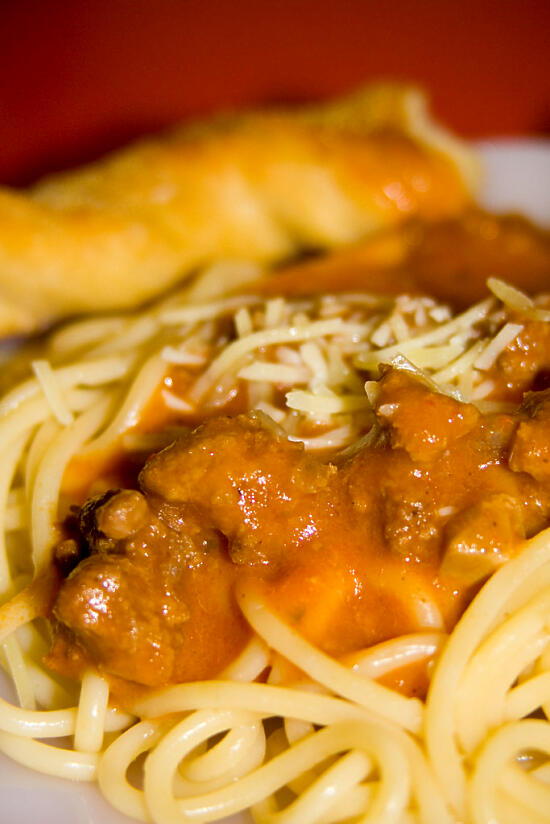 One of my favorite comfort meals in the whole wide world is spaghetti. But not just any spaghetti. It has to be the recipe passed down to my mom from her mother. I've grown up eating her spaghetti, and now anything else just doesn't measure up.
I'm a meat sauce girl. Always have been, always will be. Not meatballs, mind you, but rather many chunks of ground beef mixed into the thick sauce. The more meat, the better.
Making my mother's spaghetti sauce recipe for the first time was a huge success for me, even more than usual. Not only did the sauce turn out tasting wonderful, which in itself was a great thing. This recipe turned out just like how mom makes it. Any person who has tried to replicate a parent's recipes knows that is an awesome accomplishment. For some reason, nothing ever ends up tasting quite as good as mom's. But when I made this sauce, for the first time ever I was able to make it just as tasty as how my mom makes it. That is a good feeling indeed.
Ingredients
1 family size can tomato soup
1 regular can cream of mushroom soup
1 small can tomato sauce
1 small pkg Lawry's Spaghetti sauce mix
1 pinch Italian seasoning
1 lb hamburger meat
1 small onion, diced
1 tbsp sugar
salt, pepper, garlic salt
1 1/2 cups water
12 oz spaghetti
parmesan cheese (optional)
Cooking Directions
Fry onion with hamburger meat and season with salt, pepper and garlic salt.
In large pan, combine soups and tomato sauce.
Add water, Italian seasoning and spaghetti mix.
Add meat and simmer 30 min.
Boil water in a large pot.
Salt water, then add the spaghetti to the water.
Boil for 8-10 minutes, or until al dente.
Serve spaghetti topped with the meat sauce, with a sprinkling of parmesan cheese if you prefer.