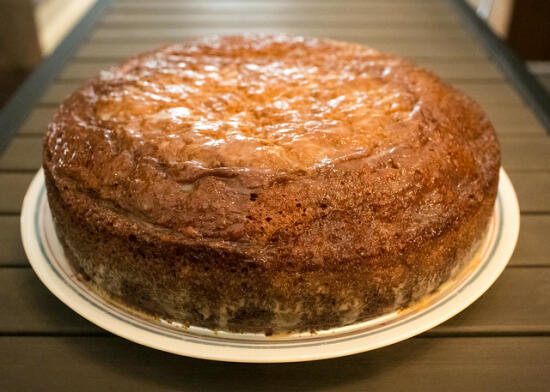 As a food blogger, I've been lucky to be able to meet tons of other awesome food bloggers over the last seven (!) years, both over the internet and in person. (Also, cannot believe it's been more than seven years since I first started blogging on Sushi Day! Now I feel ancient.)
One such awesome person that I got to meet in person a few years ago is Meagan Micozzi, of Scarletta Bakes.
Meagan giving her demo at Surfas
Meagan just released her first cookbook, The New Southwest: Classic Flavors with a Modern Twist
. As part of her book tour, she did a demo at the Surfas in Culver City a few weeks ago.
As part of her demo, she made Sweet Potato and Bacon Sopes, her Sunday Salsa, and an Almond-Crusted Pear Tres Leches Cake. All of the recipes are in her cookbook.
We were big fans of everything. I'm not usually much of a salsa person, but I loved the flavors of her Sunday Salsa.
Son, who's not usually much of a dessert person, went crazy for her tres leches cake.
So much so, that not only did he ask me to make it for a potluck we were going to with his friends a couple of weeks later, but he instantly went and bought me a springform cake pan from Surfas so I could make it – which, from a guy who thinks I have way too much cookware/cookbooks as it is, is a pretty big deal.
Side story: When we were planning the potluck, Son's friend Victor had requested I make pumpkin pie. But when Son tasted the tres leches cake, he said, "Forget the pumpkin pie, they'll like the tres leches cake better!" I told him, "Fine, but you have to make sure it's okay with Victor." The response: "I'm Mexican, what do YOU think? Ooh, maybe I'll ask my mom to make some sweet tamales for the potluck!"
Victor's mom, you rock. Those sweet tamales were crazy delicious. Total win. ๐Ÿ˜€
So back to the cake. I couldn't believe how easy it is to make. Process, press, bake the crust; mix, pour, bake the cake. Honest to goodness, easiest cake I've ever baked.
Also, the most delicious thing I've baked in a long time. A flavorful, moist cake, with a crust that manages to stay crunchy thanks to the almonds, and a rich but refreshing soak.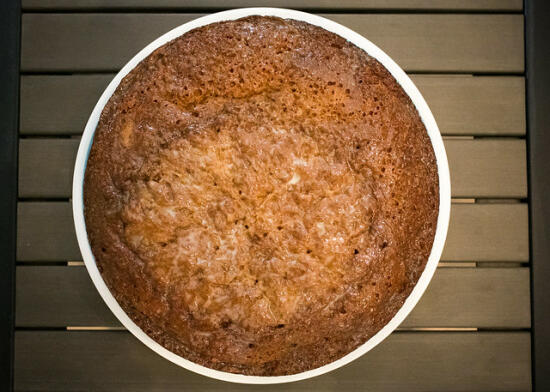 I did make a few small changes. I used apple juice instead of pear juice (where does one find pear juice? I have no idea, and didn't have the time to search for it.) I had to bake it a bit longer than the recipe called for, but I have a crappy old oven that doesn't like to stay at the temperature you set it to (turn the dial to 350°F and I end up with a 325°F oven; set it to 400°F, and I've come back to smell something burning and my oven thermometer showing 500°F. Such an awesome oven. -_-). Lastly, I didn't remove the springform ring before soaking the cake, since I knew it would be difficult to transport. So I just poured over the tres leches mixture a little bit at a time the night I baked it, and then put it in the refrigerator overnight to let it soak everything up.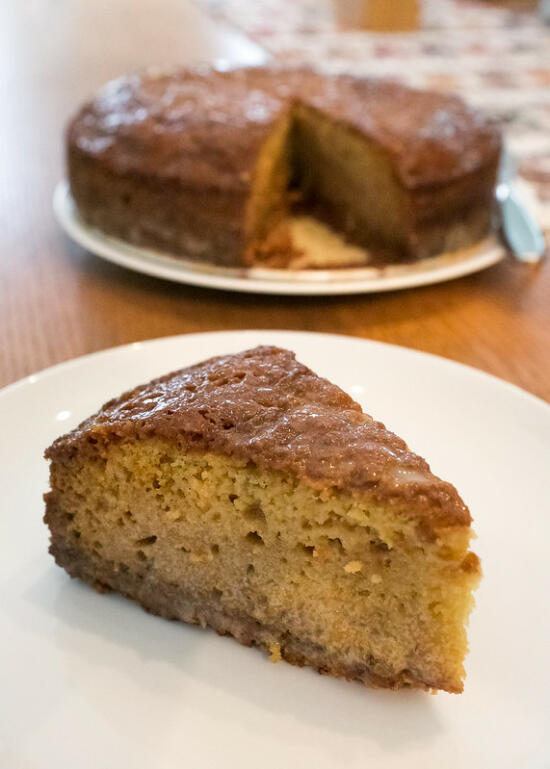 Best cake I have ever made!
Guys, you have to make this cake. I'm not kidding. We hadn't even finished the first cake, and Son was already asking when I was going to make it again! And it was a total success at the potluck – everybody loved it, several people were asking for the recipe, and one of the guys said it was his favorite thing I had ever brought to a potluck.
Almond-Crusted Pear Tres Leches Cake
from The New Southwest: Classic Flavors with a Modern Twist
, by Meagan Micozzi
Ingredients
For the crust:
9 whole graham crackers
1/2 cup almonds
1/2 cup almond meal
8 tbsp unsalted butter, melted
For the cake:
1 1/2 cups all-purpose flour
1 tbsp baking soda
4 large eggs
1 1/2 cups granulated white sugar
1/2 cup whole buttermilk
For the soak:
1/4 cup whole milk
1 (14oz) can sweetened condensed milk
1 (12 fl oz) can evaporated milk
1/4 cup pear juice (I used apple juice)
Cooking Directions
Preheat the oven to 350°F.
Line a 9-inch springform cake pan with a depth of at least 3 inches with parchment paper and set aside.
To prepare the crust, break the graham crackers into large pieces and place with the whole almonds in the bowl of a food processor fitted with a steel blade. Process to a coarse meal. Remove to a large bowl and toss together with the almond meal and melted butter. Spread the very damp mixture into the bottom of the pan and bake for 10 minutes. Remove and set aside to cool.
Meanwhile, to prepare the cake, whisk the flour and baking soda together in a large bowl, and set aside. In another large bowl, beat together the eggs and sugar. Slowly beat in the dry ingredients, alternating with the buttermilk and mixing just until you have a uniform batter. Pour the batter over the crust and bake for 45 to 50 minutes or until a cake tester inserted into the center of the cake comes out clean. Remove baked cake from oven and set aside to cool for at least 10 minutes before unmolding.
Meanwhile, to prepare the soak, whisk the whole milk, condensed milk, evaporated milk, and pear juice together in a large bowl. Once the cake has cooled, release it from the pan, remove the parchment paper, and set the cake on a rimmed platter. Using a wooden skewer, poke a series of holes through the top of the cake and pour the soak over top. Set the cake aside to allow the soak to be absorbed. The cake can be served chilled from the refrigerator or at room temperature.
Disclaimer: This post does contain an affiliate link.