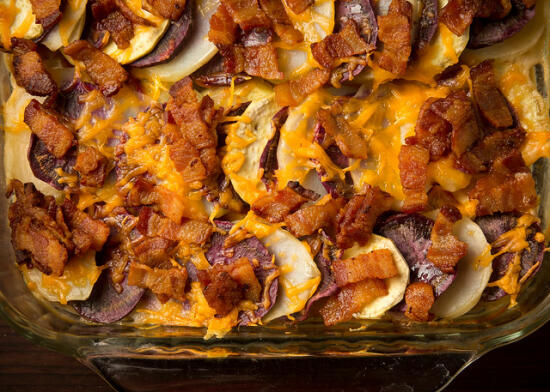 Monday morning: No dinner plans. Figure I'll scrape something together from whatever happens to be in the Fridgg fridge. (Oops, totally didn't realize I had spelled it like that until I published this post!) If all else fails, it'll be a bowl of cereal for dinner.
Monday afternoon: Still no dinner plans. Spending the day coding for Fridgg, working on a post for Sushi Day and an episode for my Miso Hungry Podcast that were supposed to go up last night, and trying to do some cleaning around this messy, messy apartment of mine.
Monday evening: Nope, no dinner plans. Then Son asks me to roast one of the purple sweet potatoes we bought at Nijiya Market on Sawtelle in West LA last week, because he's hungry. Meh. While I do love roasted sweet potatoes, for some reason I just wasn't in the mood for making one tonight. I procrastinate.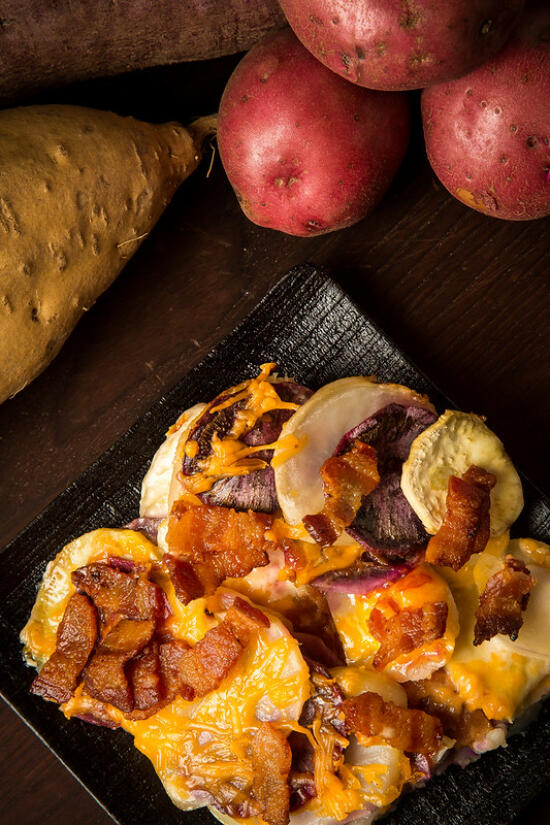 Monday, 8pm: On a whim, I decide I'm going to make a gratin! I had been wanting to make one, and just happened to have all the ingredients (plus, purple sweet potatoes!) I find the recipe for regular potato and sweet potato gratin I had bookmarked last month. I start peeling and slicing potatoes. Because, you know, it's totally normal to start cooking dinner at 8pm.
Monday, 9pm: The recipe I was using seems good, but dull. I wanted something more. I know when my mom makes scalloped potatoes, she uses cheddar cheese and bacon. So I figure, why the heck not? I start cooking some bacon.
Monday, 10:30pm: The gratin is finally in the oven. Now to do dishes while I wait for it to be done, and check it every five minutes to make sure the cheese and bacon on top isn't at risk of burning.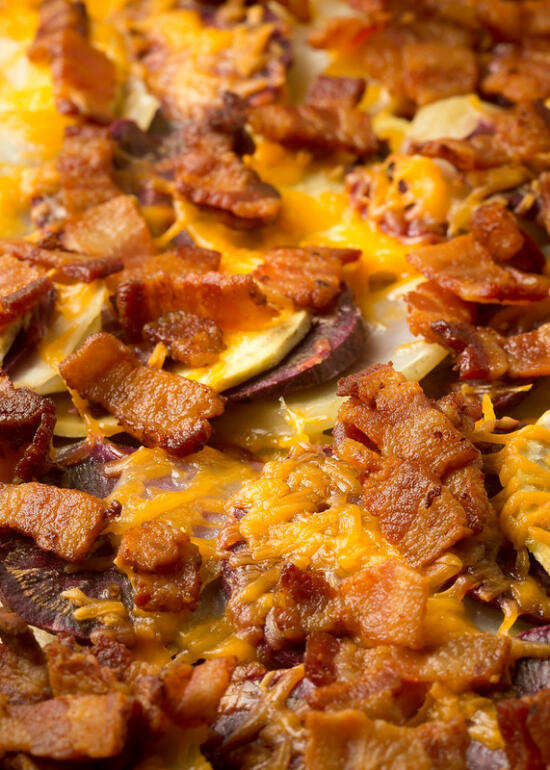 Monday, 11:30pm: Oooh, the kitchen smells delicious. The gratin is out of the oven, and off to Son's home office so he can take photos before I cut into it. Here's hoping it actually tastes as good as it looks and smells!
Monday, midnight: I finally get to cut into the gratin. My main worry was that the sweet potatoes wouldn't be cooked through, since they start out harder than the potatoes. Plus, does cheddar cheese work with sweet potatoes? I have no idea. Luckily, it turned out I had no reason to worry. This was the best gratin I've ever had. Even Son loved it, and he's usually not a scalloped potatoes kind of guy at all!
Tuesday, 1am: My little brother saw my post on Instagram about the gratin, and came to my apartment to get a plate of it. We've already eaten more than half of the gratin. It was that good. I have a feeling the leftovers won't last past tomorrow.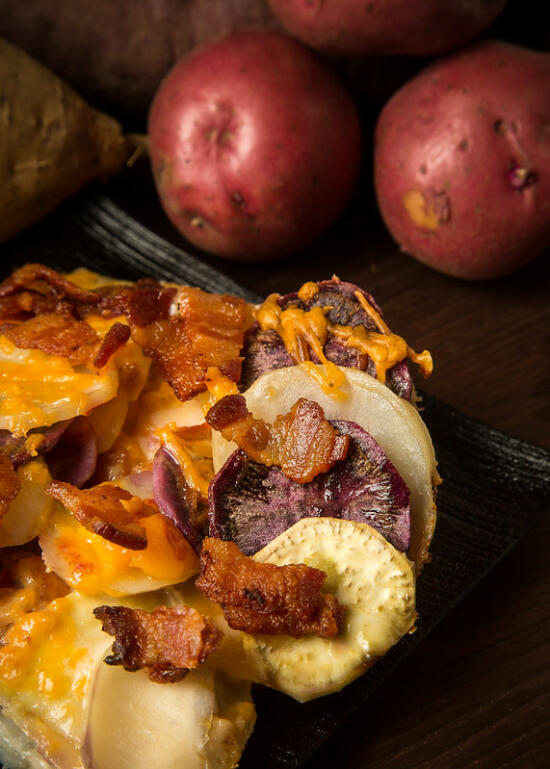 Recipe inspired by this scalloped potato gratin from A Thought For Food.
Ingredients
4 lbs potatoes (I used 1 large white sweet potato, 1 large purple sweet potatoes, and enough red potatoes to make up the difference)
1 cup heavy whipping cream
3 cloves garlic
1 pkg bacon
8 oz extra sharp cheddar cheese, grated
salt and pepper
Cooking Directions
Preheat the oven to 375°F. Grease a 9×13″ rectangular baking dish with butter.
Dice the bacon into 1/2″ pieces. Cook in a large frying pan until crispy. Drain.
Wash and peel the potatoes. Slice into 1/8″ slices.
Thinly slice the garlic cloves.
Layer about half the potatoes into the bottom of the baking dish, alternating regular potatoes and sweet potatoes, if using them. Pour 1/2 cup heavy whipping cream over it, season with salt and pepper. Evenly sprinkle the sliced garlic, 4 oz extra sharp cheddar cheese, and half the bacon over the potatoes.
Repeat with the remainder of the ingredients. Bake for 45 minutes.
Delicious served sprinkled with green onions, paprika, or drizzled with hot sauce (we used Sriracha, but it's probably delicious with most any type of hot sauce).