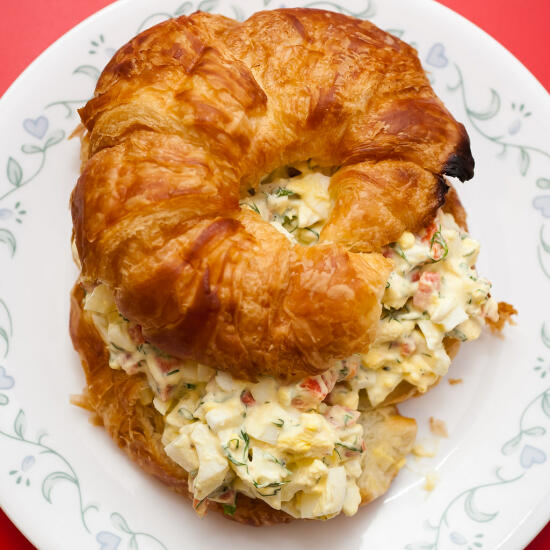 As you may have noticed, I'm blogging quite a bit more often these days.
(Pretty soon, you might even mistake me for *gasp*… a real blogger! But don't let yourself be fooled. I don't have nearly enough readers to be a "real" blogger. 😉 )
This means I'm slowly making my way through a several-year-old backlog of recipes that I've made, photographed, and just never quite got around to blogging about.
(And heck, that means I might even get around to blogging about the trip to Europe that Son and I took a year ago! … eventually!)
This egg salad recipe, for example, was something I made almost four years ago.
(GEEZ!)
I have distinct memories of sitting on the edge of a counter during a break between ballet classes, eating the best egg salad sandwich I had ever made. It was wonderful.
(And before you ask, no I was not 12 years old four years ago, but I was still trying to be a ballerina when I grew up…)
So, yes. Egg salad. Four years later. With smoked salmon! Definitely a must-try, especially if you happen to have leftover Easter eggs that need to be used up.
(Or there's always deviled eggs. Mmmm… deviled eggs.)
Recipe originally from Danny Ahern via The Washington Post.
Ingredients
8 hard-boiled eggs, chopped
1/2 cup plain yogurt (or mayonnaise)
1 tbsp chopped fresh dill
1 tbsp chopped fresh parsley
1/2 tsp kosher salt, or more to taste
1/4 tsp freshly ground black pepper, or more to taste
1/2 tsp garlic powder
1/2 tsp celery seed
3 oz smoked salmon, finely chopped
Cooking Directions
Mix all ingredients together.
Enjoy!
Serving suggestions: with a fork, in a lettuce wrap, in a sandwich with your preferred bread and toppings.