Gloom.
I'm not a fan of gloom.
I love the rain, hate the gloom. This is why, as much as I absolutely adore Seattle, I'm pretty positive I'd never survive a winter there.
I'm sitting at my desk, staring out the window at a dull, grey sky, hoping that it will start to rain again soon, so I'll hear the pitter patter of drops leaving streaks of water on the windowpane.
But if I leave my desk and wander to the other side of the apartment where the kitchen is, as I'm apt to do on days like this, things are looking much brighter. The blinds are closed to keep out the gloom, and the kitchen lights bathe the room with a warm glow. The heat of the oven chases away the chill in the air, and the smell of something delicious tickles my nose and brings a smile to my face.
Gloomy days may be my least favorite of them all, but they're also the very best days for spending hours baking comforting, delicious things.
Egg and mushroom dumplings
---
Today's recipe isn't for those bacon and chive muffins that I made today, as I made the mistake of using foil muffin cups but not greasing them, so the muffins stuck to the cups horribly. They were insanely delicious though, and I'll definitely be making them again and sharing the recipe. One of these days.
I've already posted about the egg and mushroom dumplings about six months ago, and they've become a go-to comfort food recipe for me. I made them last night, while listening to the pouring rain, and shared some with my mom, who had the unfortunate timing to be making the long drive home from my grandmother's house in the middle of all that rain. They're perfect in wonton soup. They're also wonderful comfort food when you're a bit under the weather.
No, today's recipe is actually for something entirely else, although just as perfect on a gloomy or rainy day. I bought The Back in the Day Bakery Cookbook
sometime last year. Written by Cheryl and Griffith Day (whom I like to think I might be related to, even if only very, very distantly), it's a delightful cookbook filled with recipes for all sorts of wonderful baked goods.
My mother promptly borrowed the cookbook, and a few days later was asking if I had any green cardamom pods (which I did), and could she borrow a few? This all worked out quite in my favor, as I became the happy recipient of several delicious blueberry muffins.
Mom makes the food, Son photographs it, and all I have to do is eat and blog about it? Hey, I could get used to this… 😉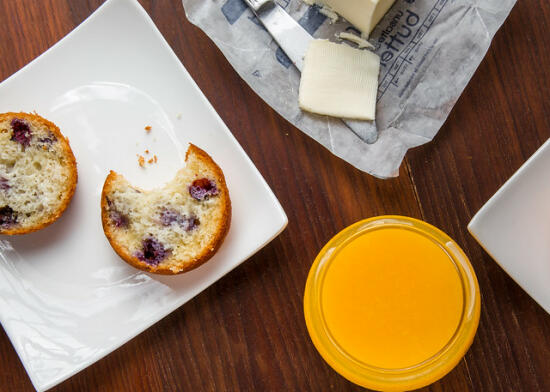 Blueberry muffins, from The Back in the Day Bakery Cookbook
Ingredients
2 cups unbleached all-purpose flour
1 cup granulated sugar
1 tbsp baking powder
1/2 tsp fine sea salt
1/4 tsp ground cardamom
1/4 cup canola oil
4 tbsp unsalted butter, melted
1/2 tsp vanilla extract
2 large eggs
3/4 cup whole milk
1 cup fresh or frozen blueberries
1/4 cup cardamom sugar (to make the sugar: add 1/2 cup whole green cardamom pods to a 1-quart jar of granulated sugar; let sit at least a few days to infuse the flavor), or coarse sanding sugar for sprinkling
Cooking Directions
Position a rack in the lower third of the oven and preheat the oven to 350°F. Lightly spray 12 large muffin cups with vegetable oil spray or line them with paper muffin cups.
In a large mixing bowl, whisk together the flour, granulated sugar, baking powder, salt, and cardamom until thoroughly combined.
In another bowl, whisk together the canola oil, butter, vanilla, eggs, and milk. Make a well in the center of the dry ingredients, pour in the liquid ingredients, and mix until just combined. Gently fold in the blueberries, using as few strokes as possible; be careful not to overmix.
With a large ice cream scoop or spoon, scoop the batter into the prepared muffin cups, filling them approximately two-thirds full. Sprinkle the tops with the cardamom sugar or sanding sugar.
Bake for 25 to 30 minutes, until the muffins are golden brown. The tops should be firm to the touch and a toothpick inserted in the center of a muffin should come out clean. Remove from the oven and let cool for 10 minutes.
Turn the muffins out of the pan and enjoy warm or at room temperature. The muffins can be stored in an airtight container for up to 2 days.