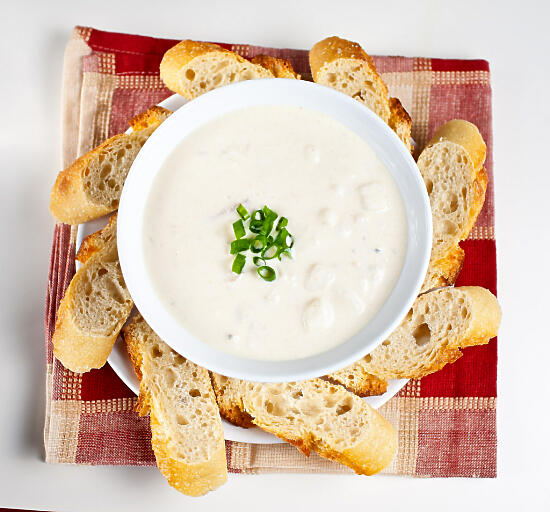 If you read Sushi Day, my other food blog, you may recall that I went to Seattle, WA last August. Although the purpose of that trip was to learn about sustainable sushi, Son and I decided that if we were going to go, we might as well get the most of our trip. So we met a few friends, ate at a new restaurant owned by the husband of a food blogger whose writing and photos I absolutely adore, got lost a few times, and ended up with a foot swollen so big I could barely walk thanks to a rather inconvenient bug bite saw as much as we could of the city in one weekend.
One of the last restaurants where we ate at was Elliot's Oyster House. Because we figured, well, we're in Seattle, so we really should eat some oysters, right? I remember enjoying the meal, though half a year later I've forgotten most of what Son and I had. However, there is one thing that we ate that I still crave: the oyster stew.
Since coming home from Seattle, I kept promising myself I would make it. But I kept putting it off, because I didn't have time to cook, it was better suited for cold weather, etc. etc. Finally, all the stars were aligned, and I made this oyster stew recipe that I adapted from Allrecipes.com.
Yum.
Get some nice crusty French (or sourdough) bread to sop up the warm soup. (Okay, I'll admit it. That's my favorite part. I'm not in it for the oysters (*gasp*) or even the potatoes (*double gasp*)… all I really care about is sopping up that hot soup with the crusty bread until it's soaked and starting to get soft… mmm. Cream, butter, and some hot sauce all mixed together… what's not to like?)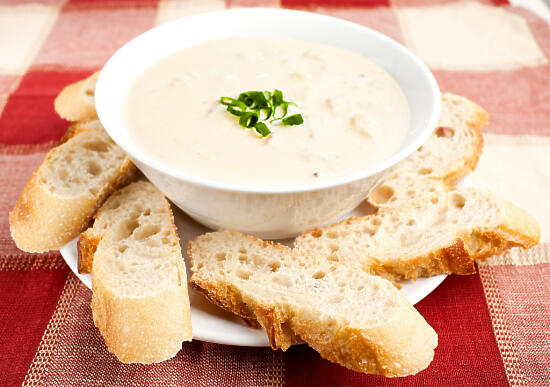 …with crusty French bread, it's the perfect meal
Ingredients
1/2 cup butter
6 shallots, minced
2 potatoes, diced
1 quart half-and-half cream
1 (12 ounce) container fresh shucked oysters, drained
salt and ground black pepper to taste
1 pinch cayenne pepper, or to taste
hot sauce
crusty French bread
Directions
Melt the butter in a large skillet over medium heat, and cook the shallots until tender.
Pour half-and-half into a large pot over medium-high heat. Mix in the butter and shallot mixture. Add potatoes. Stir continuously.
When the mixture is almost boiling, pour the oysters into the pot. Season with salt, pepper, cayenne pepper, and hot sauce.
Stir continuously until the oysters curl at the ends. When the oysters curl the stew is finished cooking; turn off the heat and serve with crusty bread to sop up the liquid.