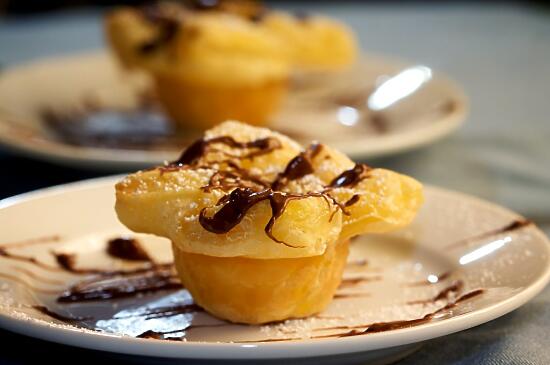 Lemon Cream Cheese Tarts…
So after a few months of just plain not having time for the Taste and Create event, I'm finally doing it again. Not that I actually have more time – work's the busiest it's been since I graduated, and in addition I'm rehearsing for a ballet in May, so I actually have less time. Funny how these things work.
This month I got partnered with J from JKitchen.Log, and it was the easiest choice I've ever had to make her Blueberry and Lemon Cream Cheese Tarts. Well, actually just Lemon Cream Cheese Tarts – I didn't have blueberries on hand, and I'm not the biggest fan of them anyways. The verdict? While they were a wee bit sour for me, (though I'm not much of a fan of sour, so I'm not a very good judge), my mother who loves sour lemon desserts absolutely adored them. As did my dad, and Son as well. I drizzled them with chocolate, since obviously chocolate makes everything better, and they were a hit!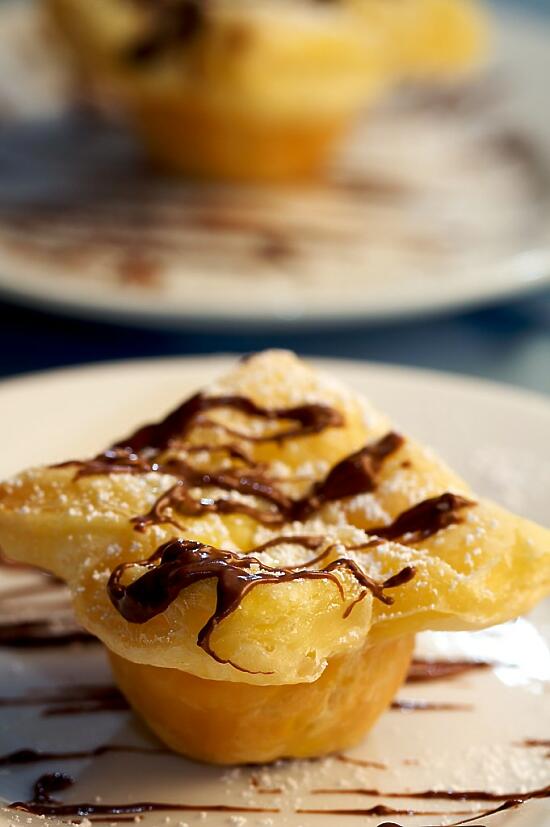 …drizzled with milk chocolate. Yum!
Ingredients
2 (25x25cm) sheets frozen puff pastry, slightly thawed
1/4 cup caster sugar
the juice from 2 lemons
4 oz cream cheese, at room temperature
1 large egg, at room temperature
1 tbsp grated lemon zest
Cooking Directions
Preheat oven to 350 F.
Grease or spray 24-cup mini (1/8 cup capacity) muffin pan.
In food processor or electric mixer, process cream cheese until smooth.
Add sugar and process until well incorporated.
Add egg and process again until mixed.
Add lemon juice and zest and process until smooth.
Cut each sheet of puff pastry into 9 squares.
Place each puff pastry square into holes in muffin pan.
Spoon the lemon-cream cheese filling evenly to each squares (approximately 1 tbsp each).
Bake for 23-25 minutes.
Cool on wire rack.
Dust with icing sugar and drizzle with melted chocolate to serve.