Business trip! We spent the week in Palo Alto and San Francisco, meeting with clients.
We were starving when we got to Palo Alto, so we stopped at the hotel restaurant for a bite to eat. We figured the veggie panini ought to be a good, healthy option. It was tasty for sure, but oh so greasy!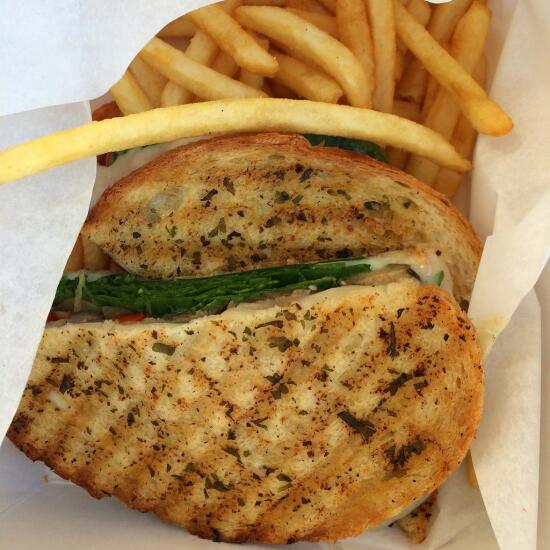 Sandwich at the office.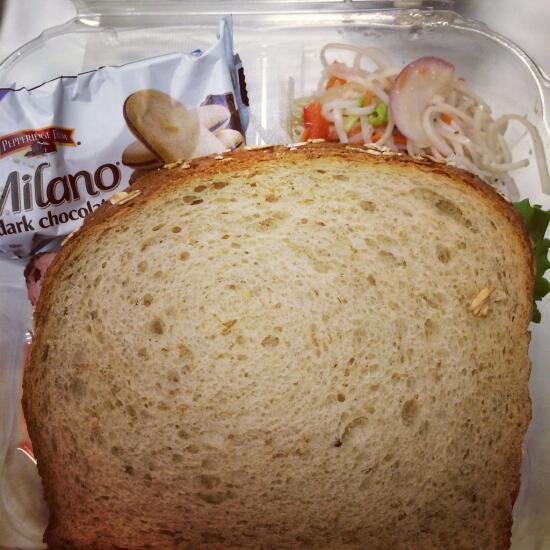 Tacos! Our client took us to Nola for dinner the first night. They got an order of Churrasco Steak Tacos to share. Very delicious.
mini marinated steak tacos, smashed avocado, pickled red onions, house-made chimichurri
If there's jambalaya on the menu, Son's pretty much guaranteed to order it.
andouille sausage, tasso ham, chicken, shrimp, seared scallops, scallion rice, cajun spices, roasted tomatoes, crushed garlic, holy trinity, finished with a spicy sauce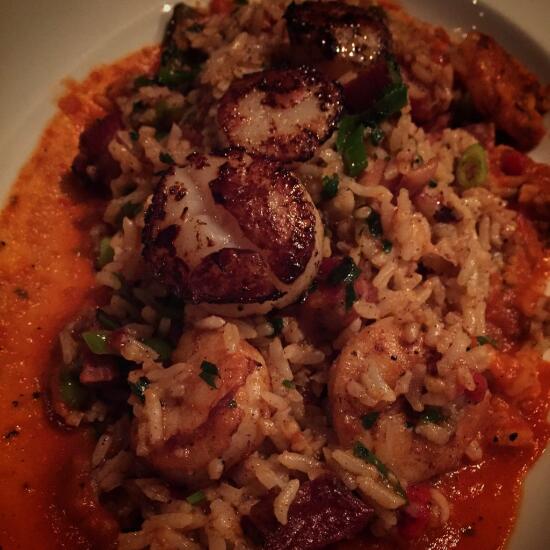 I got Mr. T's Famous Skirt Steak. It was definitely our favorite dish of the night.
teriyaki marinated skirt steak, hand-smashed garlic potatoes, grilled asparagus, crispy cornmeal onion strings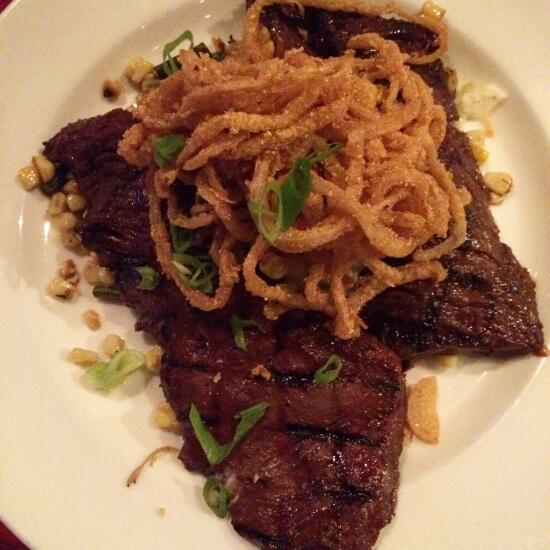 The second night we were on our own for dinner, so Son looked up nearby restaurants. We ended up walking to Pho Avenue.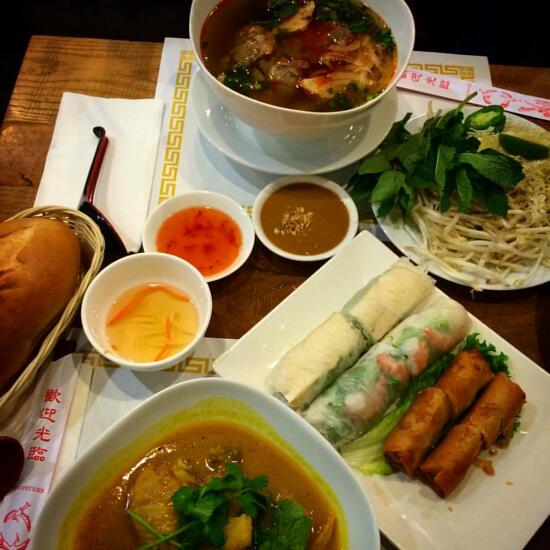 Hi.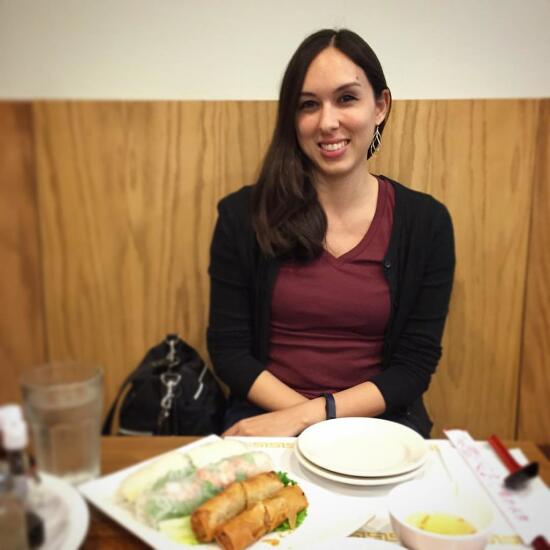 We started with an order of their spring roll sampler. Every single type was delicious.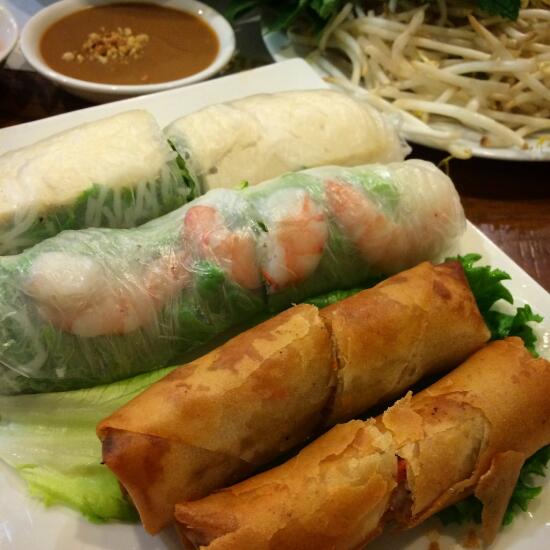 I ordered the ca ri ga with banh mi (chicken curry with bread). To say it was life-changing would not be an overstatement. The curry was fantastic, and the bread… well, I'd go back for the bread alone!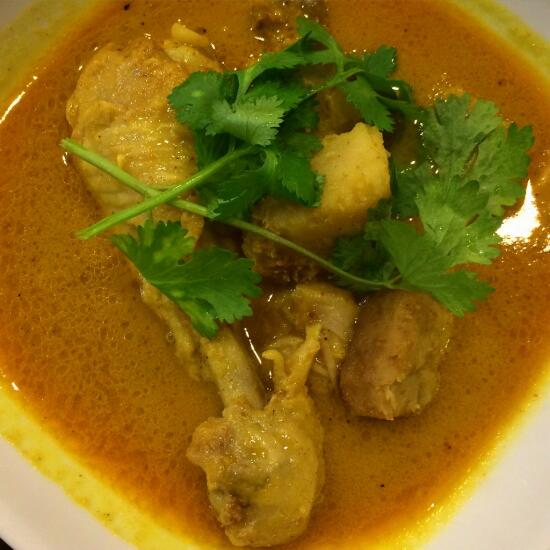 Son got the bun bo hue. I hear it was pretty tasty.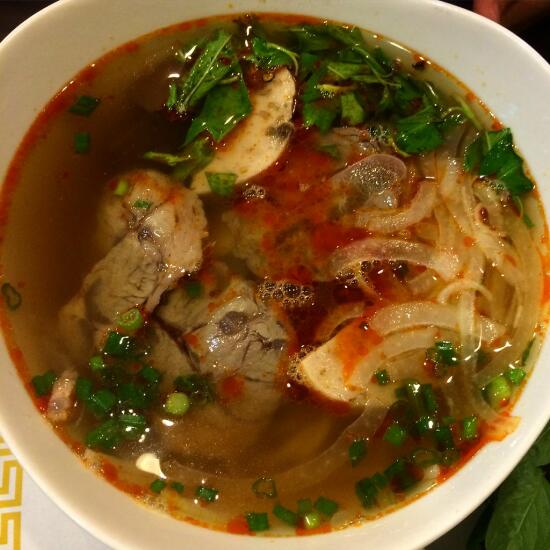 It was too legit to quit.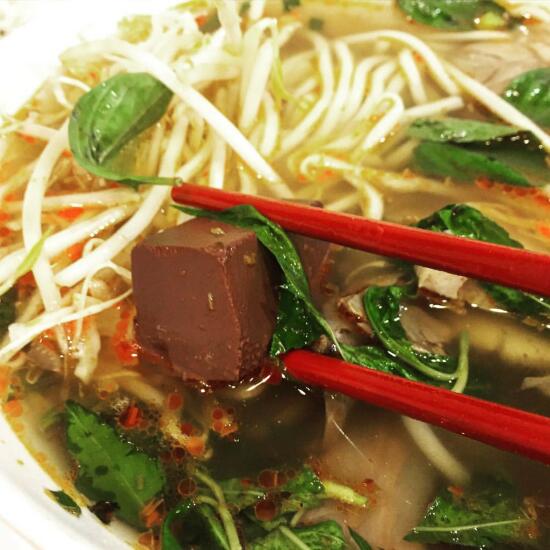 Seriously, though, if it wouldn't have been totally unprofessional we might have considered skipping the San Francisco part of the trip just to be able to eat at Pho Avenue again. It was that good.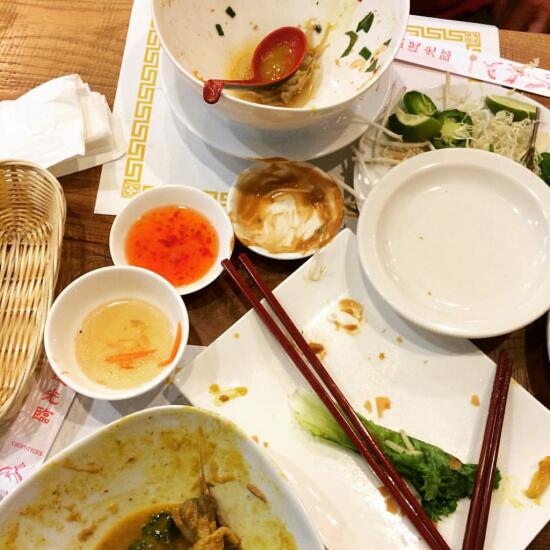 Pretty designs at the hotel.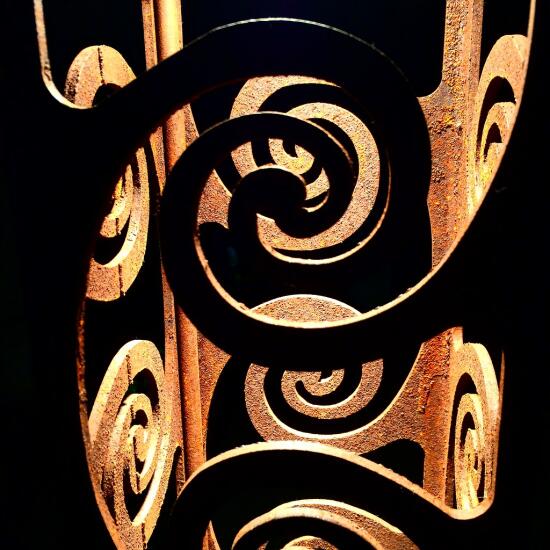 A coworker was kind enough to drive us up to San Francisco after the Palo Alto portion of our trip was done. We stopped at Curry Up Now in San Mateo on our way.
The mango lassi was some goooood stuff.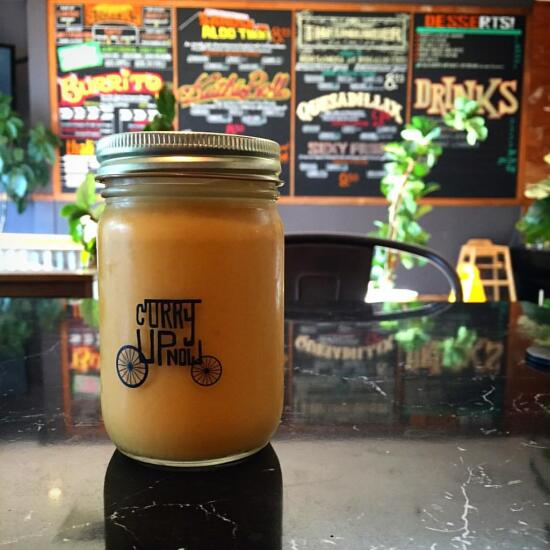 And those "sexy fries" with lamb were totally Son's jam.
We also got a Tikka Masala Burrito, although I didn't get a good picture of it. Tasty!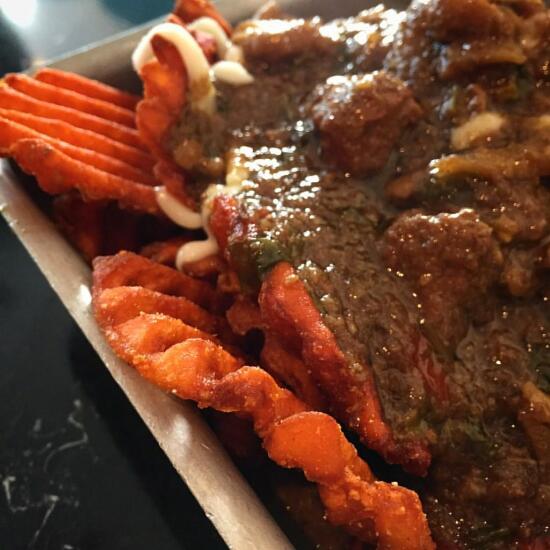 On our way out, we stopped by a dessert shop a couple of doors down called Bambu, which primarily sold Vietnamese-style che dessert drinks. Very delicious, and perfect for the looooong stop-and-go drive into San Francisco.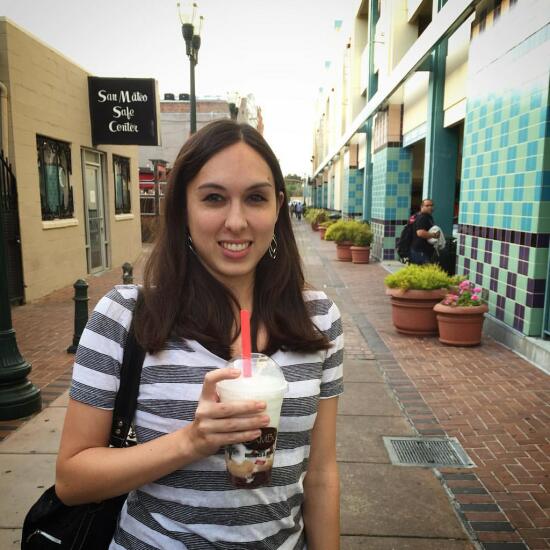 Our hotel in San Francisco was in the Financial District, which was right next to Chinatown. So of course we wandered in that direction for dinner, after we checked in.
And… we ended up at a Vietnamese restaurant. Who here's suprised?
I went for the beef stew this time. It was quite chilly that night, so this was the perfect comfort food.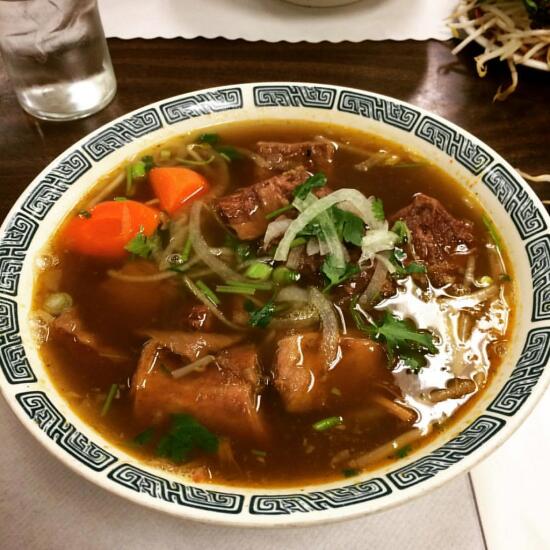 Obviously, Son got bun bo hue. Again.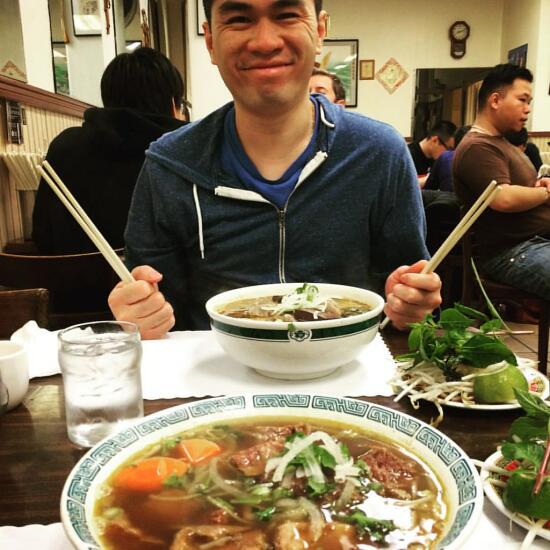 The next morning, we had a day off from client meetings, so it was back to Chinatown for some takeout dim sum that we brought back to our hotel. (Hence the bare feet.)
It wasn't bad, but we were a little disappointed that it wasn't nearly as good as our go-to place in LA.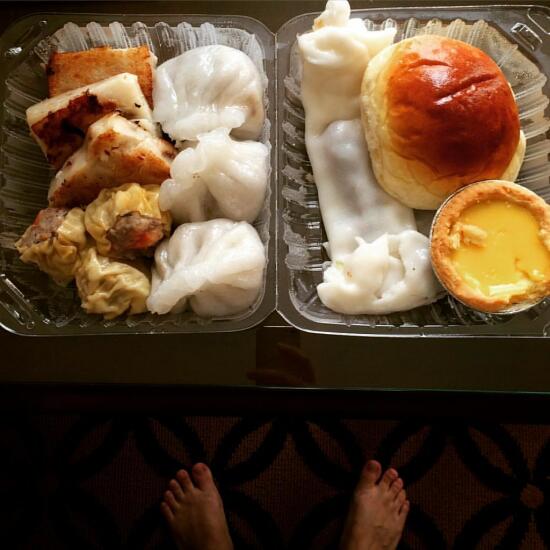 After pigging out on dim sum and getting some work done in our hotel room, we met my aunt for lunch.
She took us to a nearby vegetarian Chinese restaurant called Enjoy Vegetarian Restaurant. None of us are vegetarian, but it was so good, we'd happily eat there on a regular basis!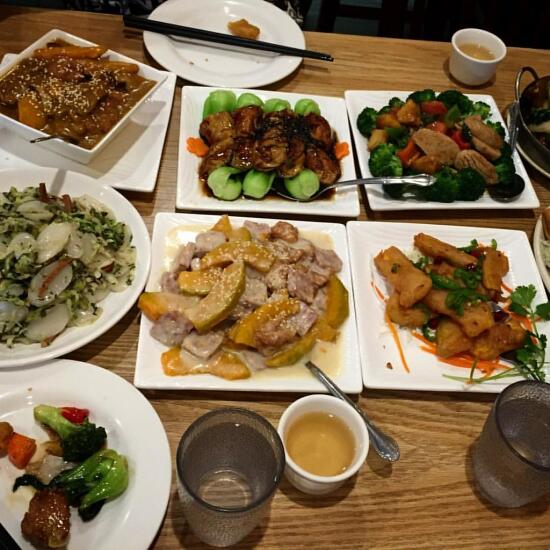 We got:
Preserved Mustard Greens, Fried Rice Cake 雪菜炒年糕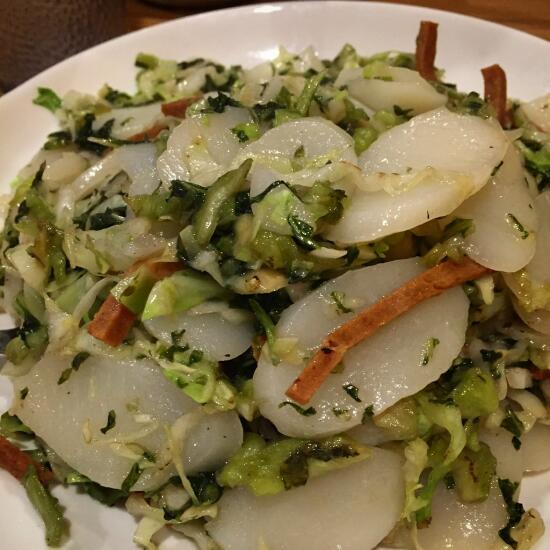 Coconut Sauce w/ Taro, Soy Chicken & Pumpkin椰汁香芋、南瓜 、芝麻雞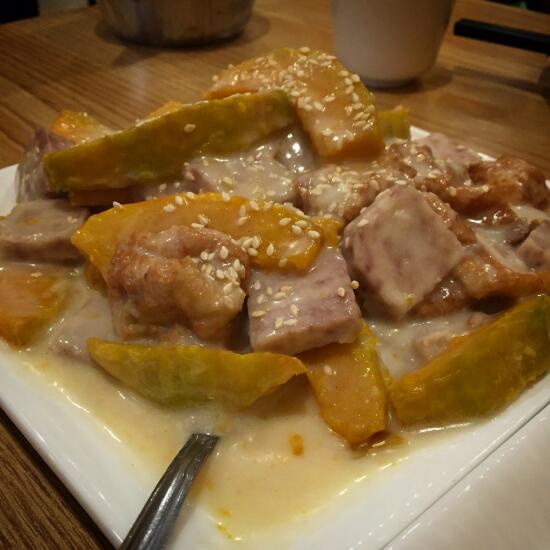 Bean Curd Rolls w/ vegetable (stuffed w/Cabbage, Mushroom) 法海蒲團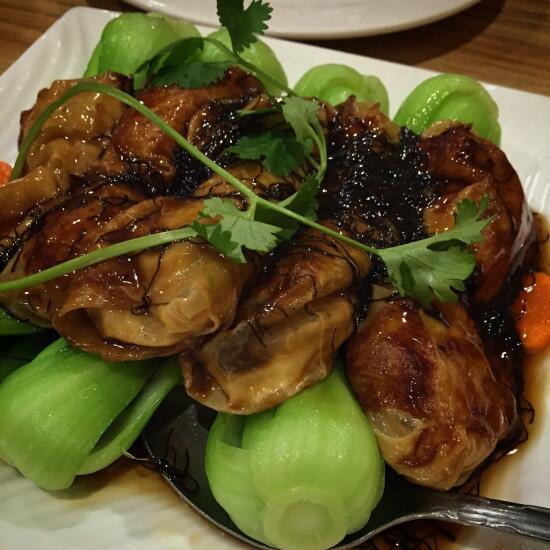 Tempura-fried kabocha squash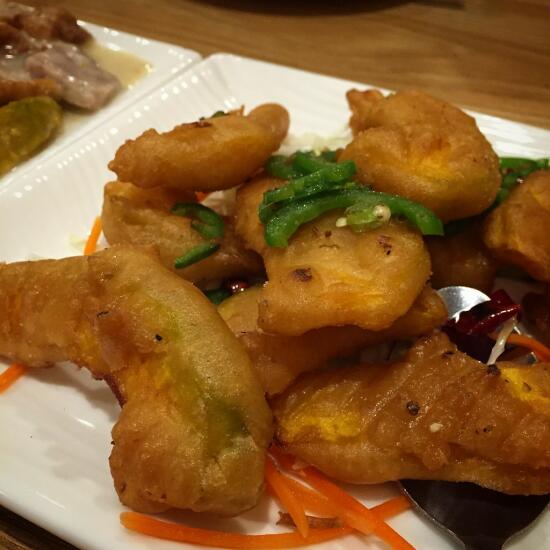 Stir Fried Mixed Green Vegetables (Yau Choy, Shanghai Bok Choy & Broccoli) 清炒雜青菜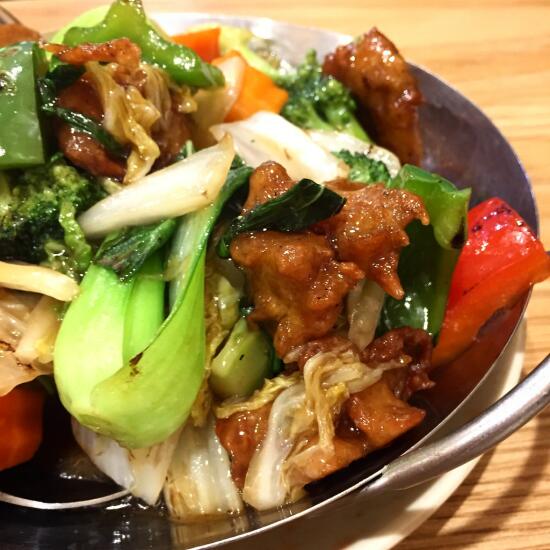 Vegan squid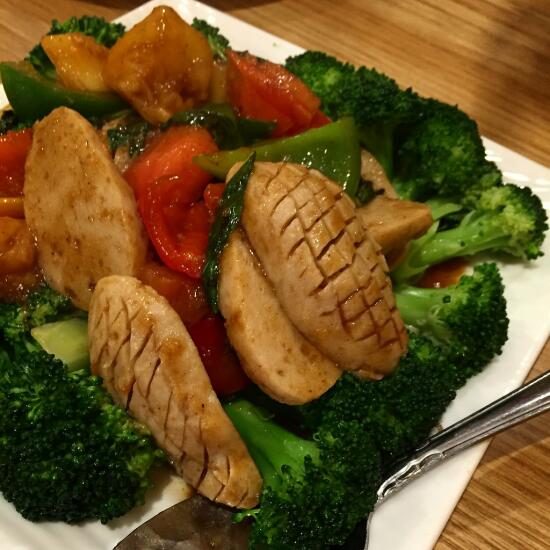 … and a couple of other things I didn't get photos of.
Everything was so good. We totally pigged out. Eight dishes, for three people. There were definitely leftovers, although maybe not as much as there should have been. 😉
After that it was back to the hotel to work a bit more, and then it was time to wander again to find some dinner.
We headed to the Ferry Building first, and because we're adults and can do whatever we want, had dessert before dinner. 😀
Black sesame ice cream, and oolong tea ice cream, from Humphrey Slocombe. So good.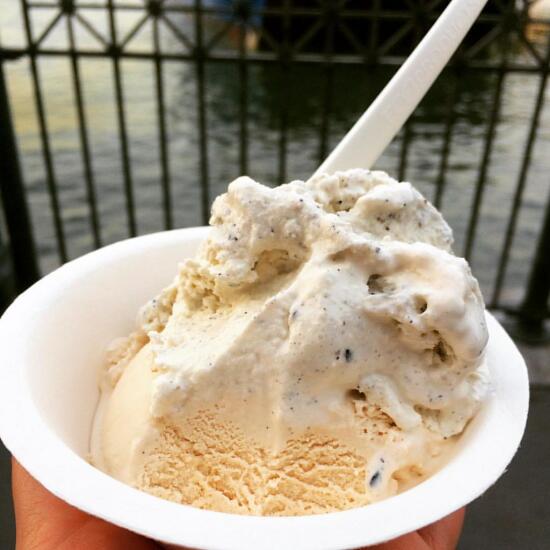 Looking for dinner. We found a very San Francisco sunset instead.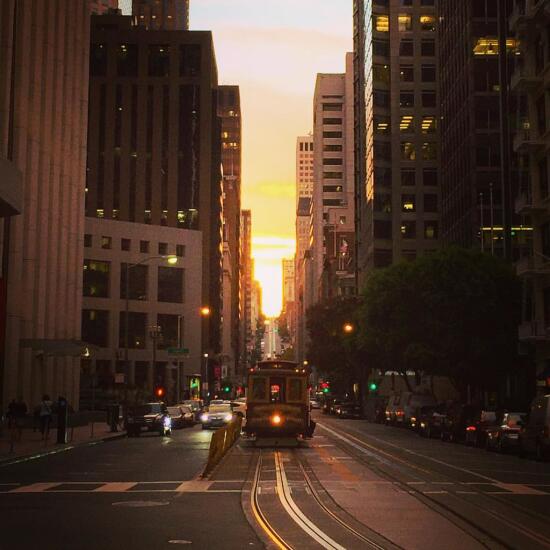 Although we got a little lost on the way (all those tall buildings really mess with GPS!), we finally found the place we were headed for dinner. Hello, Ramen Bar SF!
Of course, we had to try the Deviled Ramen Eggs – spicy miso, pork chashu, fried ramen, nori. We wouldn't get it again, but we don't regret trying it once.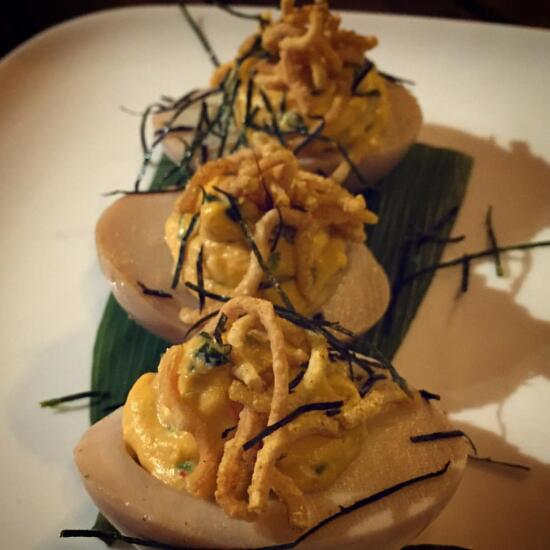 Son loves soft-shell crab, but this Tempura soft-shell crab with spicy kewpie mayo was sadly a bit soggy.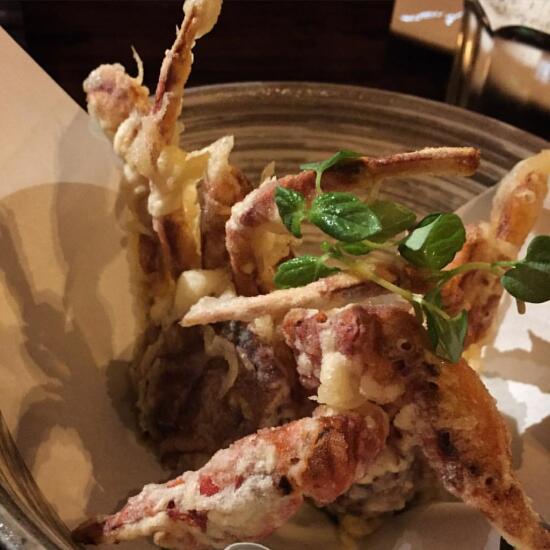 Shoyu Tonkotsu Ramen – shoyu tare, pork belly, benishoga, cabbage, soy-cured egg.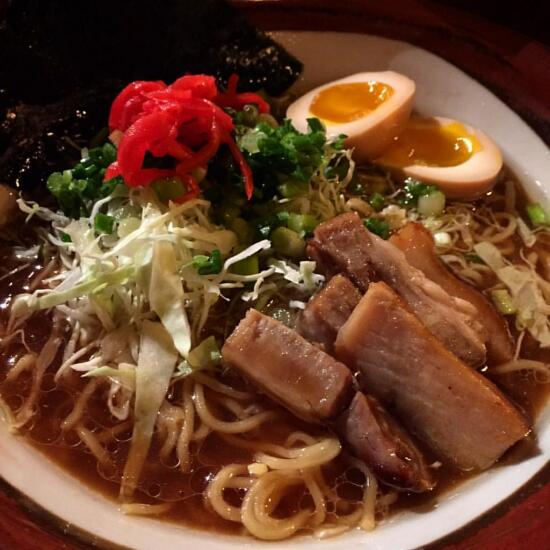 Hokkaido Ramen – spicy yasai miso tare, corn, garlic butter, pork belly, soy-cured egg. This was easily our favorite dish of the meal! Although we weren't entirely wowed by the other dishes, we would go back again, just for this bowl of ramen.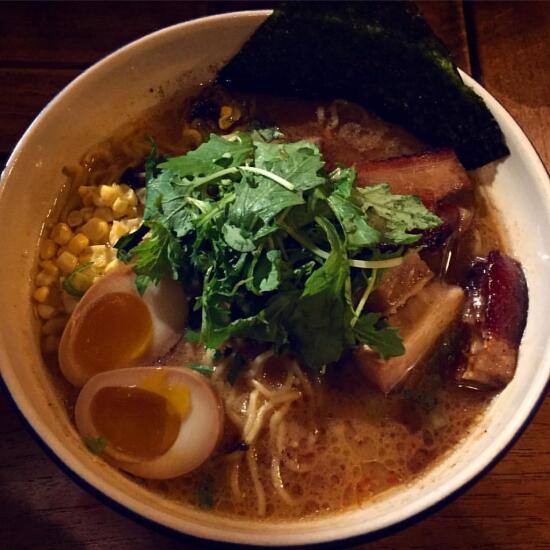 At our client meeting the next day, we got a taste (heh) of one of the many food delivery services available in San Francisco. Just saying, we wouldn't mind if Bento Now delivered to us in LA too…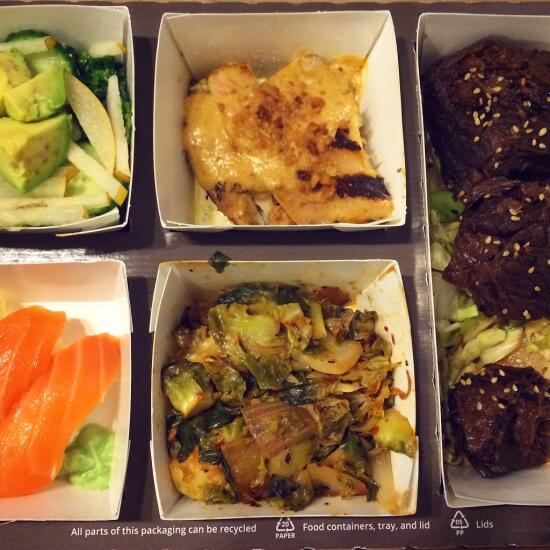 And of course, can't forget dessert. They also got cookies delivered, from another food delivery service.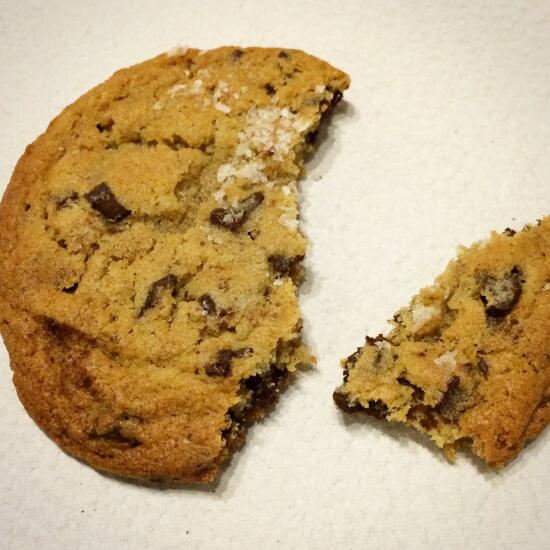 On our way out, before heading back to the airport, we stopped by SOMA Eats. Son got the Slow-Roasted Lamb Sandwich (house-roasted lamb shouldert with date almond relish and arugula on toasted ciabatta), and I got the BLT & Zataar Egg Sandwich (the classic with shredded iceberg lettuce, sliced tomato, bacon and avocado topped with a zaatar-spiced fried egg on thick-sliced white bread). Holy cow, those were some darn good sandwiches.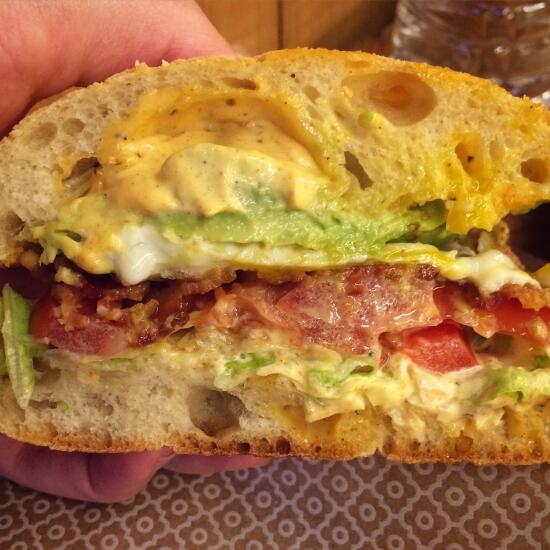 Au revoir, San Francisco, until next time!
~~~~~~~~~~
Links I've loved lately:
I always adore watching Misty Copeland dance.
~~~~~~~~~~
Things I want to eat:
This is my kind of pizza.
I could happily eat these miso squash spring rolls every day.
These s'mores petit fours are so much fun.
Cannoli pound cake. *swoon*
Love the crust on these radish dumplings.
I adore everything about this ravioli dish.
Pimento cheese mac n' cheese… yes, please!
~~~~~~~~~~