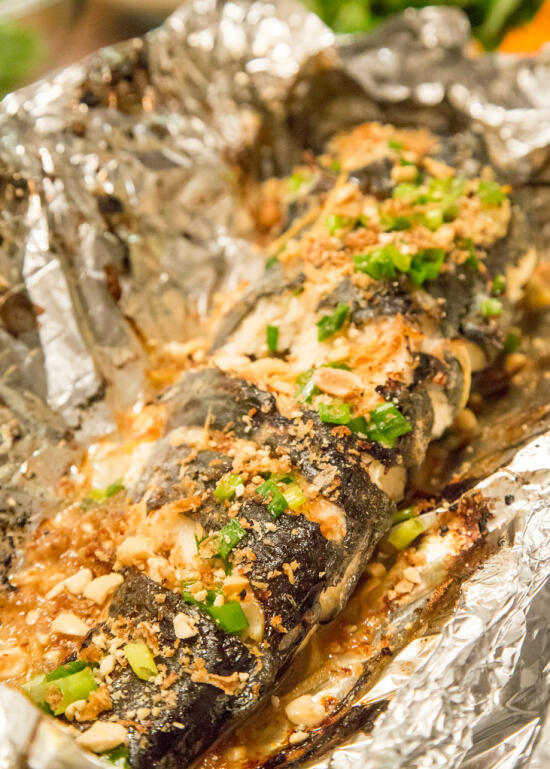 The Lunar New Year is coming up soon, which means it's an excellent time to post all the New Year's recipes that I've accumulated photos for over the years… and never posted.
Oops.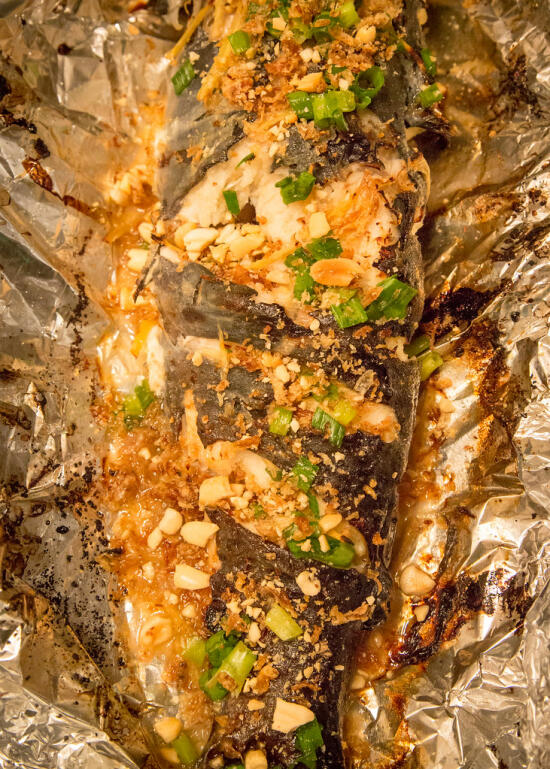 This one comes from back in 2013. Really, it's the same recipe I posted waaaaay back in 2009, except this time I made it with a whole, just-killed catfish… and have slightly better photos.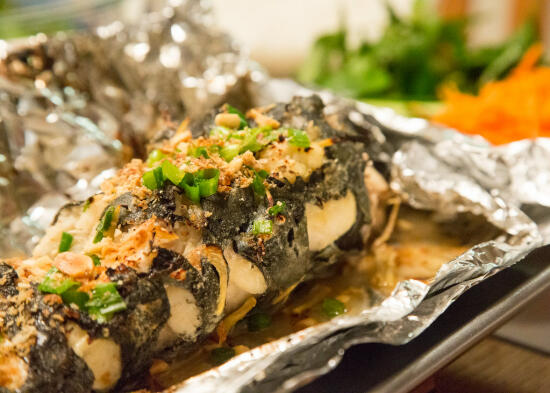 We had the bright idea this time to head over to 99 Ranch and get a fresh catfish, and have them catch, kill, and gut it for us.
First of all, that took FOREVER. The lines there were insane.
Second of all, nobody tells you that even an hour later, once you're home and ready to cook it… IT WILL STILL BE MOVING. EVEN AS YOU'RE CUTTING INTO IT.
Yeah, I definitely got a huge case of the heebie jeebies when I grabbed it out of the bag and it moved.
But I did it! And it was delicious. 😀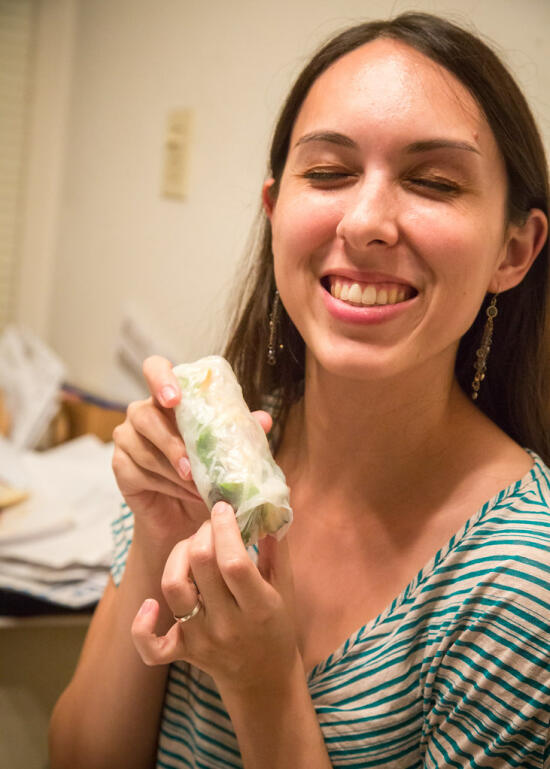 Vietnamese Whole Grilled Fish with Crispy Skin (Cá Nướng Da Giòn)
Ingredients
1 whole catfish, skin on
1 tsp salt
1 tbsp sesame oil
1 tsp garlic powder
1 tsp onion powder
4-inch piece of ginger, peeled
1 tbsp honey
1 tsp lemon juice
2-3 stalks green onions, chopped
1 tsp vegetable oil
crushed peanuts
fried onions
Cooking Directions
Heat the oven to 350° F.
Make thin cuts diagonally along the fish, almost to the bone.
Lay the fish flat on a sheet of foil.
Rub the fish with the salt, then the sesame oil. Rub the fish with the garlic and onion powders.
Thinly julienne the ginger, then lay on top of and underneath the fish.
Wrap the fish in the foil, and make a few small holes in the top of the foil to allow steam to escape while cooking.
Depending on the size of the fish, cook for half an hour to an hour. Keep an eye on the fish to make sure it doesn't overcook.
When the fish is fully cooked, remove it from the oven and carefully open the foil, taking care not to burn yourself. Heat the broiler.
Pour the liquid that has pooled in the bottom of the foil into a bowl, and set aside.
Mix the honey and lemon juice, and brush the top of the catfish with it.
Put the fish under the broiler, just until the skin turns golden brown.
Mix the green onions and vegetable oil with the drippings, and microwave for 10-20 seconds. Pour over the fish.
Sprinkle the crushed peanuts and fried onions over the fish, and enjoy!
We ate the fish in spring rolls with lettuce, vermicelli, cucumber, onion, Vietnamese herbs, and pickled carrots, but you can enjoy the fish by itself as well.