After a day spent relaxing on the beach, we decided to go somewhere nice on our last night in Hawaii. We checked our nifty little list/map of yummy places to eat in Honolulu, and settled on Roy's.
After we ordered, the first thing that came out was a bowl of edamame. Normally I adore edamame, and can down a whole bowl by myself. Not this time. They were seasoned with salt, chili pepper flakes, and sesame oil. While Son enjoyed the edamame, I found it to be too oily for my tastes. I prefer my edamame plain, seasoned only with a little salt.
I love escargot. It's not often that I visit fancy restaurants that serve the dish, so when I am I always get it. (Which has been about twice in my lifetime.) I love the texture and flavor of the little snails, and heck – who doesn't love a good butter sauce?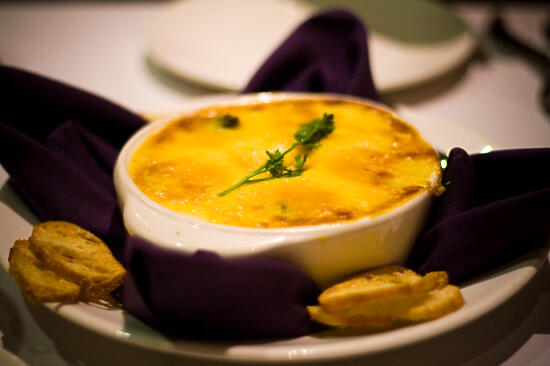 The first time I had escargot was when I was eighteen. The guy I was dating at the time decided to take me to a nice French restaurant for my birthday. We got escargot as an appetizer, and even though at that time I wasn't fond of trying exotic foods, I loved the snail dish. It was the one bright spot in an otherwise unpleasant birthday.
Scooping one escargot out
As I expected, I loved the escargot. The buttery, cheesy (?) sauce was amazingly delicious, and the little crostini that came with the dish were a perfect accompaniment to the rich snails. While Son wasn't exactly impressed by the escargot, I absolutely adored them… I ended up eating most of the six that came as our appetizer.
I ordered a Slow Braised and Charbroiled Short Rib dish that came with a sort of scalloped potato side and grilled vegetables. The short ribs easily yielded to my fork, and were incredibly tender. I loved the buttery potatoes (of course, I love nearly any potato dish), and the grilled vegetables were delicious as well. However, I wouldn't order this again – if I went back, I would order one of the other delicious-looking dishes on the menu.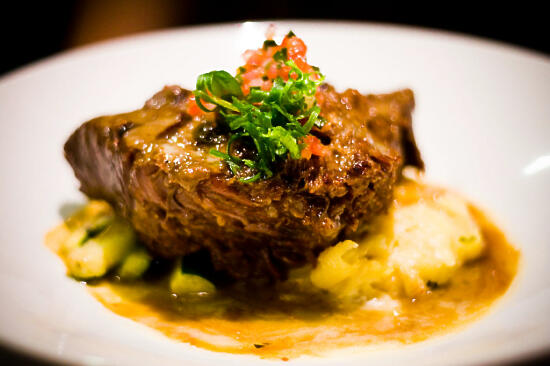 Son decided to get the Roy's Classic Trio of Hibachi Grilled Salmon with Citrus Ponzu Sauce, Roy's Original Blackened Island Ahi with Spicy Soy Mustard Butter, and Hawaiian Style Misoyaki Butterfish with Sizzling Soy Vinaigrette. As I mentioned in my edit of the Sugoi review, Son will leap for misoyaki butterfish any time he can get it.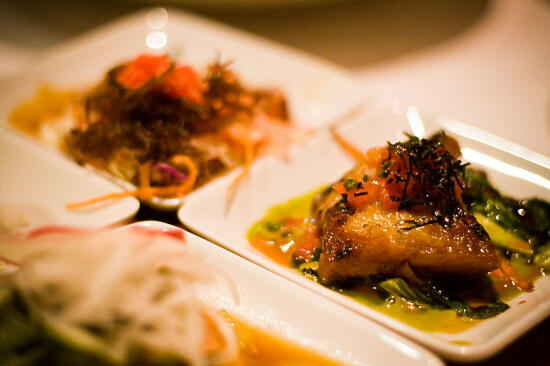 Roy's Classic Trio – 3 fish dishes and a scoop of rice
Son found the salmon to be nothing special. Of the three fish dishes in his meal, this was undoubtedly his least favorite. He found the sauce to be a tiny bit sour for his tastes.
Hibachi Grilled Salmon with a Citrus Ponzu Sauce
He somewhat enjoyed the blackened Ahi tuna. This dish reminded him of sushi – not incredibly special or out of the ordinary, but still very delicious. Although it came with a wasabi sauce, he found it to be a little bland compared to the other two dishes.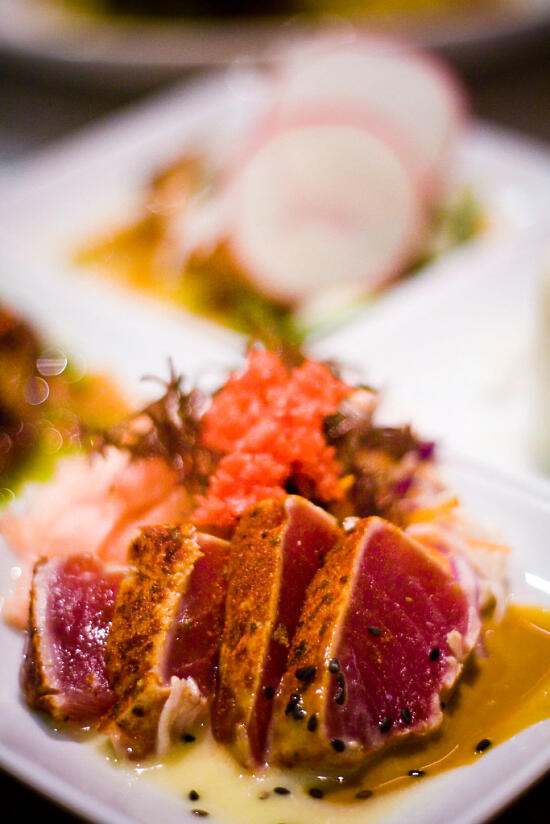 Blackened Island Ahi with a Spicy Soy Mustard Butter
And then there was the misoyaki butterfish. Oh my goodness, the butterfish. This was easily his favorite dish of the entire night, and possibly of the entire trip. If he could do the meal over again, he would order just the butterfish. Really, his only complaint about the dish was that there wasn't enough of it. The soft flaky fish, the spicy-sweet misoyaki glaze… I think he's in love. I might just have to be jealous.
Misoyaki Butterfish with a Sizzling Soy Vinaigrette
For dessert, we got Roy's Melting Hot Chocolate Soufflé – Flourless Chocolate Cake with a Hot, Molten Center; served with Raspberry Coulis and Vanilla Ice Cream. The waitress said this takes 25 minutes to make, so we ordered it when we ordered our meal. This was delicious, yes, but not ohmygod amazing. As with any chocolate cake (which reminded me more of a brownie), we easily finished the dessert and enjoyed it. However, this struck me as something I could make just as well, if not better, at home. From a restaurant such as this, I expected more "amazing" and less "meh, it's good, but I could do better."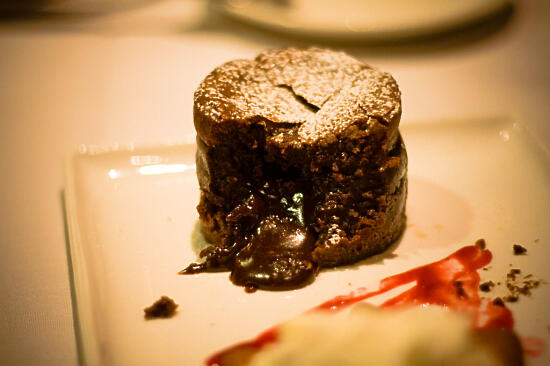 Roy's Melting Hot Chocolate Soufflé
Overall, we enjoyed our meal. The food was delicious, and the environment was somewhat elegant. My only real complaint was the service. While our waitress was very professional, knew the answers to every question we could possibly think to ask, and was incredibly polite, there was another waiter who would come and refill our water. Every five minutes. Never mind that the glasses of water were huge and we had barely made a dent in them, he would still come by and top the glasses off. I'm sure he was just doing his job, but my goodness did that get annoying. Otherwise, a great experience!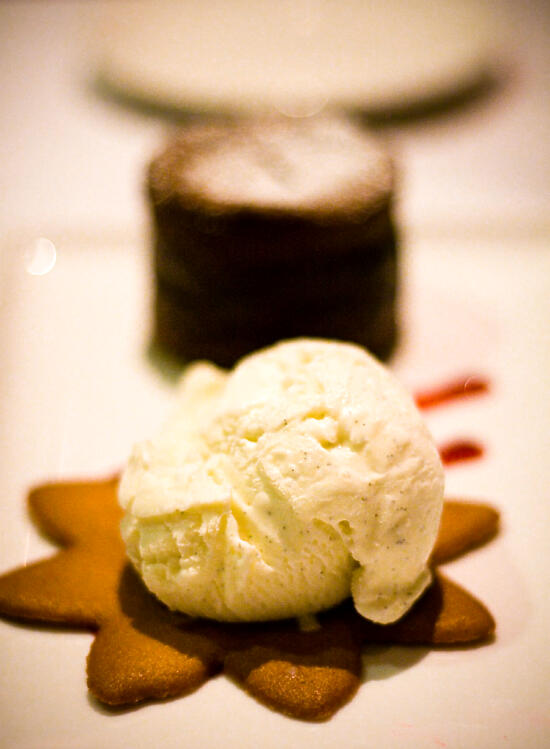 …served w/ Raspberry Coulis and Vanilla Ice Cream