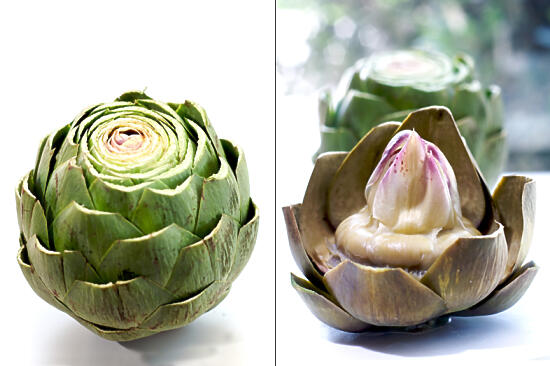 This month's Daring Cook's challenge was Rice with Mushrooms, Cuttlefish, and Artichokes, picked by Olga of Olga's Recipes. It sounded delicious – exactly the kind of dish that Son would love. I intended to make it just as written, except… cuttlefish isn't exactly sustainable. Thus, a no-no for me. Besides, Whole Foods didn't have cuttlefish… OR squid. And I was in a bit of a hurry, since I've been traveling most of the month. So then I figure, hey, I've got shrimp in the freezer! I'll use that! Except… I didn't. So instead, I went with sausage that I had at home, being in a hurry and all.
But otherwise, the recipe went exactly as planned. Making the allioli was quite a workout (okay, so I've got wimpy arms)… oh man, was I feeling it. And holy cow, is that stuff garlicky! Even Son, king of all things garlic, couldn't eat more than a small dollop mixed into a serving of the dish.
As for that picture of the artichokes up there… well, I just couldn't let all those beautiful artichoke leaves go to waste! So I microwaved them just like mom always used to, and ate them with melted butter like we did as kids. And THEN cleaned them for the dish. Yum.
The dish itself? Delicious. Son and I both had seconds (and maybe even thirds!) Then we ended up giving the leftovers to my dad, but ONLY because we were leaving the next day and didn't want it going to waste, sitting in our fridge for a week. But man, was it good. And the sausage? (Pineapple and bacon sausage, from Costco, if you were wondering.) Oh man. Did it complement the dish wonderfully. A successful accident, if I do say so myself!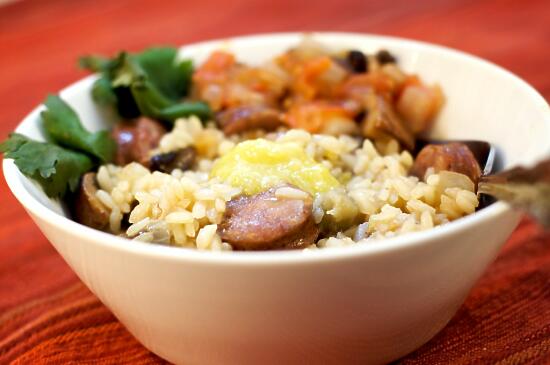 Rice with Mushrooms, Sausage, and Artichokes
Ingredients
4 artichokes (you can use jarred or freezed if fresh are not available)
12 button or Portobello mushrooms
1 or 2 bay leaves (optional)
1/3 cup white wine
6 sausages
2-3 tbsp sofregit (recipe follows)
2 cups short grain rice
6 cups water or fish stock (I used vegetable stock)
1 pinch saffron threads
allioli (recipe follows)
Cooking Directions
Cut the sausage into thin slices (about 1 cm thick).
Add 1 or 2 tablespoon of olive oil in a frying pan and put the sausage in the pan.
If you use fresh artichokes, clean them as shown in this video. Cut artichokes in eights.
Clean the mushrooms and cut them in fourths.
Add a bay leaf to the sausage. Add the artichokes and the mushrooms.
Sauté the artichokes until you get .
Add the white wine so all the solids in the bottom of the get mixed, getting a more flavorful dish.
Add 2-3 tablespoons of sofregit and mix to make sure everything gets impregnated with the sofregit.
Add all the liquid and bring it to boil.
Add all the rice. Let boil for about 5 minutes in heavy heat.
Add some saffron thread to enrich the dish with its flavor and color. Stir a little bit so the rice and the other ingredients get the entire flavor. If you're using turmeric or yellow coloring instead, use only 1/4 teaspoon.
Turn to low heat and boil for another 8 minutes (or until rice is a little softer than "al dente").
Put the pan away from heat and let the rice stand a couple of minutes.
Sofregit – Ingredients
2 tbsp of olive oil
5 big red ripe tomatoes, chopped
2 small onions, chopped
1 green pepper, chopped (optional)
4 or 5 garlic cloves, chopped
1 cup of button or Portobello mushrooms, chopped (optional)
1 bay leaf
salt
a touch of ground cumin
a touch of dried oregano
Sofregit – Cooking Directions
Put all the ingredients together in a frying pan and sauté slowly until all vegetables are soft.
Taste and salt if necessary.
Allioli – Ingredients
4 garlic cloves, peeled
a pinch of salt
a few drops of fresh lemon juice
extra-virgin olive oil
Allioli – Cooking Directions
Place the garlic in a mortar along with the salt.
Using a pestle, smash the garlic cloves to a smooth paste. (The salt stops the garlic from slipping at the bottom of the mortar as you pound it down.)
Add the lemon juice to the garlic.
Drop by drop; pour the olive oil into the mortar slowly as you continue to crush the paste with your pestle.
Keep turning your pestle in a slow, continuous circular motion in the mortar. The drip of olive oil needs to be slow and steady. Make sure the paste soaks up the olive oil as you go.
Keep adding the oil, drop by drop, until you have the consistency of a very thick mayonnaise. If your allioli gets too dense, add water to thin it out. This takes time—around 20 minutes of slow motion around the mortar—to create a dense, rich sauce.