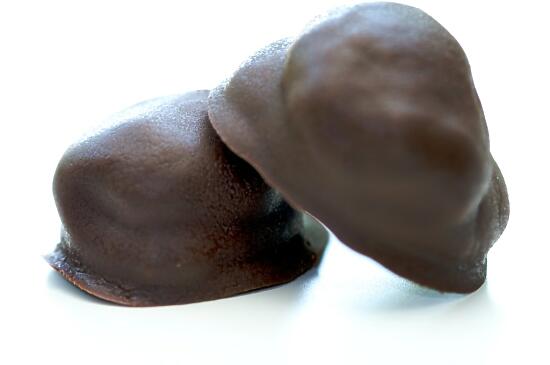 The July Daring Bakers' challenge was hosted by Nicole at Sweet Tooth. She chose Chocolate Covered Marshmallow Cookies and Milan Cookies from pastry chef Gale Gand of the Food Network.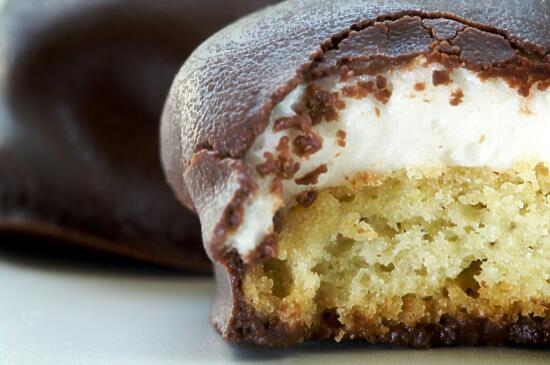 So maybe my marshmallows ended up a little lumpy…
There is no other cookie I associate with my mother more than mallow cookies. For Christmas, Mother's Day, her birthday… she would always get at least one box of chocolates (usually See's), and a package of Marshmallow Pinwheels (like these mallow cookies). So it was no wonder when I saw that these were one half of this month's Daring Baker's challenge, I instantly thought, "I have to make these for mom."
Making these was… a bit of an adventure. Not in a bad way… or at least, not too much. Instead of the predicted 2 dozen cookies, I got… 200. Heh. And then my marshmallows refused to firm up, even when I used a different recipe… so I put them in the refrigerator and they firmed up a little too much. Oops. So instead of pretty little marshmallow cookies, my marshmallows ended up a bit lumpier than I would have preferred. And I had a whole extra batch of marshmallows to eat (woe is me!). To top it all off, the chocolate coating refused to set. So I had to keep them in the refrigerator, lest the coating melt and get all over everything.
Cookies 3, Allison 0.
So I brought the refrigerated, lumpy mallows to my family's 4th of July celebration (along with the milan cookies that I'll post later today). Within a minute of trying the first one, my mom had eaten… five. Yep, you heard me right. And then she stuck them back in the fridge so she wouldn't finish the whole container of them in one sitting. I would certainly consider that a success, wouldn't you agree?
My mom made us take some of the cookies back home, so she wouldn't eat them all. Because somehow, I don't think she would have had any problem finishing all two hundred cookies, if we had left them there. So we took about a third of them back home… and I made Son take them to his coworkers. Who very much enjoyed them.
I win.
… but they were still really, very good.
Ingredients
3 c all-purpose flour
1/2 c sugar
1/2 tsp salt
3/4 tsp baking powder
3/8 tsp baking soda
1/2 tsp ground cinnamon
12 tbsp unsalted butter
3 eggs, whisked together
1/4 c water
1/4 c light corn syrup
3/4 c sugar
1 tbsp powdered gelatin
2 tbsp cold water
2 egg whites, room temperature
1/4 tsp pure vanilla extract
12 oz semisweet chocolate
2 oz cocoa butter or vegetable oil
Cooking Directions
In a mixer with the paddle attachment, blend the flour, 1/2 c sugar, salt, baking powder, baking soda, and cinnamon.
On low speed, add the butter and mix until sandy.
Add the eggs and mix until combined.
Form the dough into a disk, wrap with clingfilm or parchment and refrigerate at least 1 hour or up to 3 days.
When ready to bake, grease a cookie sheet or line it with parchment paper or a silicon mat.
Preheat the oven to 375°F.
Roll out the dough to 1/8-inch thickness, on a lightly floured surface. Use a 1 to 1 1/2 inche cookie cutter to cut out small rounds of dough.
Transfer to the prepared pan and bake for 10 minutes or until light golden brown. Let cool to room temperature.
In a saucepan, combine the water, corn syrup, and 3/4 c sugar, and bring to a boil until "soft-ball" stage or 235°F on a candy thermometer.
Sprinkle the gelatin over the cold water and let dissolve.
Remove the syrup from the heat, add the gelatin, and mix.
Whip the whites until soft peaks form and pour the syrup into the whites.
Add the vanilla and continue whipping until stiff.
Transfer to a pastry bag.
Pipe a "kiss" of marshmallow onto each cookie. Let set at room temperature for 2 hours.
Melt the chocolate and cocoa butter together in the top of a double boiler or a bowl set over barely simmering water.
Line a cookie sheet with parchment or silicon mat.
One at a time, gently drop the marshmallow-topped cookies into the hot chocolate glaze.
Lift out with a fork and let excess chocolate drip back into the bowl.
Place on the prepared pan and let set at room temperature until the coating is firm, about 1 to 2 hours.
Note: if you don't want to make your own marshmallows, you can cut a large marshmallow in half and place on the cookie base. Heat in a preheated 350°F oven to slump the marshmallow slightly, it will expand and brown a little. Let cool, then proceed with the chocolate dipping.