What is your one food that, if you see it on a menu, you're definitely gonna order it? For me, it's anything with bacon, potatoes… or bánh bèo. For Son – bún bò Huế, squid ink pasta, and… egg tarts!
We've gotten them at plenty of bakeries here, as well as on our trip to Hong Kong last year (which is coming soon to the blog!), but our favorites were the ones we got at Borough Market in London.
Unsurprisingly, after that trip Son decided that it would be awesome if I could make egg tarts at home. So the next year, for his family's Lunar New Year celebration, I tried out this ridiculously easy recipe.
I like ridiculously easy recipes. I like them even better when they're also ridiculously delicious. And this recipe is definitely both. Son LOVED them, and I got rave reviews from everyone who got to try them.
But silly me, I forgot to write down the exact measurements and method I used back when I first made them in 2015… so before posting this recipe, I knew I had to make them again. Just to be sure.
Oh darn what a sacrifice.
😀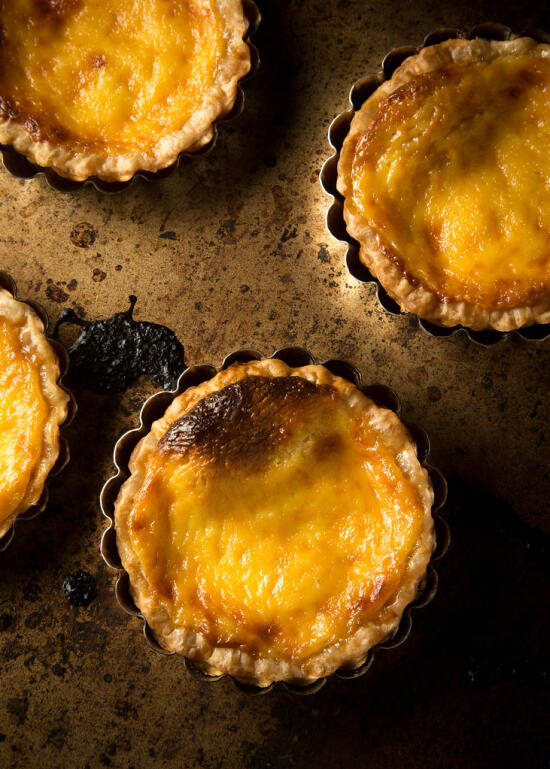 Recipe from Guai Shu Shu.
Ingredients
1 package (around 450g) frozen store-bought puff pastry, thawed
1/3 cup (75g) fresh milk
1/4 cup (45g) caster (superfine) sugar
2/3 cup (150g) heavy cream
1/2 tbsp (15g) sweetened condensed milk
1 tbsp (8g) cornstarch
3 egg yolks
Cooking Directions
Preheat the oven to 400°F.
Grease tart pans or muffin tins with vegetable oil or butter.
Unroll the thawed puff pastry, and cut out rounds the size of your tins. Gently press the puff pastry into your tins, lightly stretching to fit if needed so it lines the entire tin. If you'd like, you can use this method to roll up the scraps and use them to make a few additional egg tarts.
Mix the milk and sugar in a small bowl, and microwave until boiling (1-2 minutes on HIGH). Alternately, you can heat in a small pan on the stovetop, just until boiling.
In a separate bowl, whisk together the heavy cream, sweetened condensed milk, cornstarch, and egg yolks. Slowly pour the hot milk into the mixture, a little at a time, and whisk until incorporated.
Pour the custard into the puff pastry shells. Bake 20-25 minutes, or until the pastry is set and slightly browned around the edges. Let cool, top with powdered sugar if desired, and enjoy!