I should not be left alone with a cheesecake. It's dangerous – both for the well-being of the cheesecake and for my waistline. So when I discovered how incredibly easy the cheesecake that my aunt makes for all our family gatherings really is… well, I can kiss my girlish figure goodbye.
Cheesecake is easily one of my favorite desserts. The crumbly graham cracker crust, the rich, creamy filling… especially the tangy-sweet sour cream topping. Son and I have been known to consume an entire cheesecake in a weekend. An entire cheesecake… for just the two of us. It's entirely possible we have a cheesecake problem. We might need help. The big problem is, this cheesecake is so ridiculously easy to make. Just mix, bake, mix, bake, refrigerate, eat! Perhaps not quite as easy as those no-bake cheesecakes, or those pre-made cheesecake fillings you can buy, but the tiny bit of added effort is entirely worth it.
Make this cheesecake once, and then try – just try – to not make it again when the first one is gone. It's just. That. Good.
This is my paternal grandmother's recipe – my aunt (on my mom's side) got it from her at my mother's wedding shower and has made it quite often since then.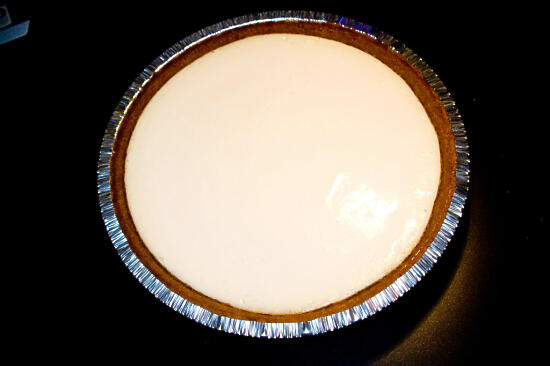 Ingredients
Crust:
1 ready-made graham cracker crust
Cheesecake:
2 eggs
1/2 cup sugar
1 tsp vanilla
8 oz cream cheese
Topping:
8 oz sour cream
4 tbsp sugar
1 tsp vanilla
Cooking Directions
Preheat oven to 375°.
Beat eggs until thick.
Beat 1/2 cup sugar, 1 tsp vanilla, and cream cheese into the eggs, until smooth.
Bake at 375° for 30 minutes or until firm.
Cool about 15-20 minutes until top is firm.
Preheat oven to 400°.
Mix sour cream, 4 tbsp sugar, and 1 tsp vanilla until well combined.
Pour on top of cream cheese layer and smooth out.
Bake at 400° for 10 min or until firm.
Chill 6 hours or overnight