May 15, 2005.
That was my first date with Son. Our anniversary. That means I've been with this boy man for over six years now.
Holy cow.
It doesn't seem like that long. But at the same time it feels like we've been together forever. You know?
Going out has never been much of a big deal for us. I mean, come on… he didn't even take me to dinner on our first date (or for several dates after that first one, either.) We just talked for hours, and by the time we realized we still hadn't eaten, it was time for him to get me home (so my parents wouldn't meet us at the door with stern looks). (Yes, I was living at home at the time. Long story, but it was the end of my freshman year of college.)
Even now, we generally prefer to eat at home than at a restaurant – and when we do go out, it's certainly nowhere fancy. Maybe Mottainai for ramen, or Panda's Express (don't judge, I know you have your guilty pleasures too).
But every now and then, it's nice to get out and go somewhere a little fancier.
So, on Son's recommendation (he had gone here once for work, he said), we headed to Fritto Misto.
It's a quaint little Italian restaurant just blocks from the beach. Perfect.
Of course, we couldn't decide what to order. (I never can.) So since it was a special day, we splurged and got all three of the pasta dishes that had caught our eye, knowing we'd get to enjoy it again for dinner that night. (Do you do that too? Order a bunch, even if you're with a tiny group, because you want to try everything? I tell ya, leftovers are a wonderful thing.)
Italian bacon, sundried tomatoes, caramelized onions, and garlic cream, tossed with tomato fettuccini.
Definitely my favorite of the meal, although all three pasta dishes were delicious.
Striped sweet potato ravioli with sage cream sauce and wild mushrooms.
I'm a sucker for ravioli. Anytime it's on the menu I have to order it… and it's almost always amazing. This was no exception.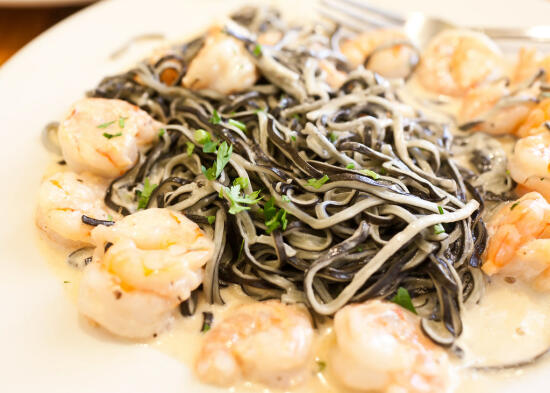 Shrimp sautéed in herb butter, garlic, and brandy, then tossed with black and white pasta and garlic cream.
This one was Son's choice. Delicious, especially if you love shrimp.
Rich, dark, and dense flourless chocolate cake topped with fresh whipped cream.
Delicious. It's a good thing I made a point not to stuff myself (we knew we'd be bringing home leftovers no matter what), because the dessert was incredibly rich, as every flourless chocolate cake ought to be.
(The cake was on the house – when we asked to have our leftover pasta wrapped up to go, they brought this out for us. My guess is that they noticed the camera and were hoping to sway any review in their favor. We'd have given them a rave review anyways, but the chocolate cake was not unwelcome.)
A wonderful restaurant, with wonderful service, and fantastic food. (Even now, weeks later, I still dream about that Pasta Pancetta. Oh boy, we're going to have to go back there sometime soon.)
Happy anniversary, Son.
Fritto Misto
316 Pier Ave
Hermosa Beach, CA 90254