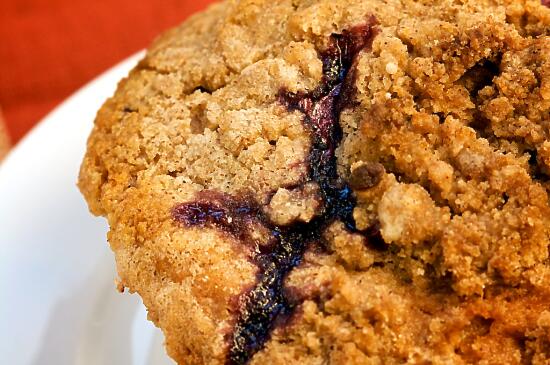 Everyone has a different idea of what comfort food is. For Son, comfort food is a nice hot bowl of phở or bún tôm thịt nướng (grilled shrimp and pork with vermicelli noodles and vegetables). For me, comfort food tends more towards chocolate peanut butter ice cream, or most potato dishes, or a steaming mug of hot chocolate. But blueberry muffins?
Made with fresh blueberries, of course
When I think comfort food, blueberry muffins are not something that comes to mind. But when I took a bite of one of these blueberry muffins, fresh from the oven with a pat of butter, I was young again. Sunday morning "special" breakfast with my family, blueberry muffins from a box mix… except so much better. Even though I did everything I possibly could to mess these up (not on purpose, of course)… ran out of regular white sugar so I also used brown sugar in the muffins, then ran out of brown sugar so I had to use powdered sugar in the streusel… had to use a little pastry flour because I ran out of regular flour… yes, I'm a bad food blogger, I know. This is what happens when I bake on a whim. But they turned out just fine! So all is well.
(Although… I would actually leave off the streusel next time I baked these. It was way too sweet for my tastes… but that could have been because I used powdered sugar instead of granulated. Oops.)
This recipe was adapted from To Die For Blueberry Muffins, from AllRecipes.com.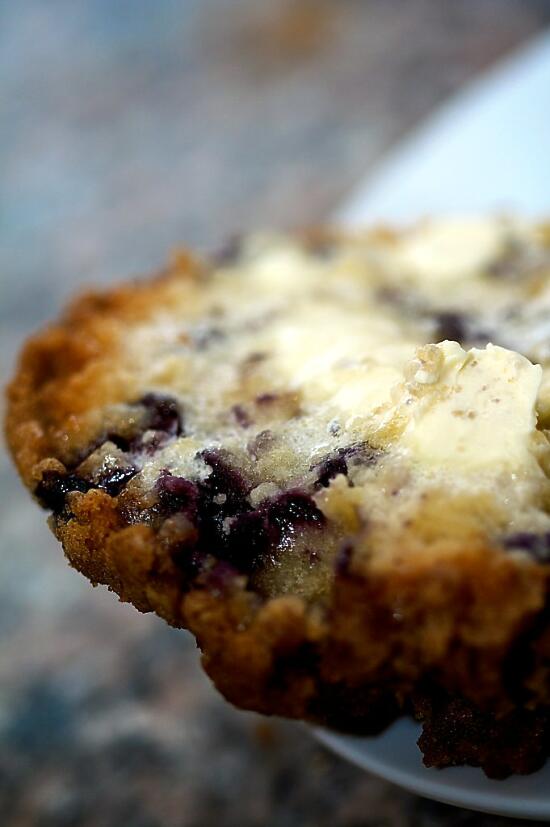 Ingredients
1 1/2 c all-purpose flour
3/4 c white sugar
1/2 tsp salt
2 tsp baking powder
1/3 c vegetable oil
1 egg
1/3 c milk
1 c fresh blueberries
1/2 c white sugar
1/3 c all-purpose flour
1/4 c butter, cubed
1 1/2 tsp ground cinnamon
Cooking Directions
Preheat oven to 400° F (200° C).
Grease muffin cups or line the muffin cups with muffin liners.
Combine the 1 1/2 cups flour, 3/4 cup sugar, salt and baking powder.
Place vegetable oil into a 1 cup measuring cup; add the egg and enough milk to fill the cup. Mix this with the flour mixture.
Fold in the blueberries.
Fill muffin cups right to the top.
Mix together the 1/2 cup sugar, 1/3 cup flour, 1/4 cup butter, and 1 1/2 teaspoons cinnamon.
Sprinkle the crumb topping over the muffins before baking.
Bake for 20 to 25 minutes in the preheated oven, or until done.